Rocky Mountain Vintage Rally, Day Three
Another great day at the RMVR. Today was the Open House day. In the morning, we (and all the other rally participants) were open for each other to visit, and in the afternoon we were open for the general public. Thus, we basically spent most of the day socializing.
In between the two Open House periods, we headed over to Creede to take in the underground Mining Museum. In 1990 Creede hired some miners to tunnel out a Community Center, Fire Station, storage for the local constabulary, and a museum. All of these are located in the side of a mountain of rock just north of downtown. I've never seen a Fire Station built underground before, and it's odd to imagine a chicken dinner fundraiser or a Seniors Bingo Night being held in the underground as well, but that's what they do here in Creede.
The weather was changeable today, as it has been in Colorado for weeks now, so most of my photos ended up as interiors. Here are a few of the people at the rally and their trailers...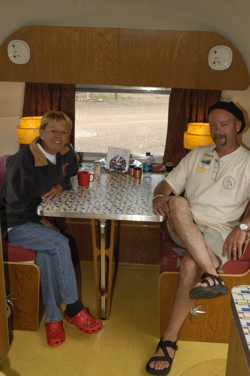 Harry and Kim Truitt have made over this 1966 Airstream Safari beautifully. Now they are ready to tackle the outside. Harry's the guy who sold me the 1960s Thermos.

I didn't get this gentleman's name but I will later. He owns a pair of 1940s Airstreams, both in remarkably original condition.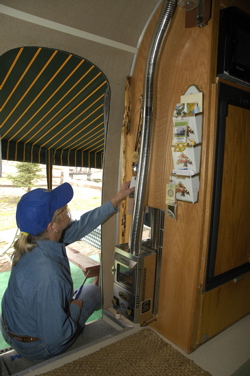 Patty Raimondo demonstrates the Dickinson marine fireplace she recently added to her very customized 1954 Flying Cloud.

Diane Bailey and her dog seem very comfortable in this plush 1961 Bambi.

Rob and Sadie Super have been customizing this 1973 Safari for quite a while. It has a very cool aluminum and naugahyde interior. There's some finishing work yet to be done here, but the design inside is excellent.
A friend of Rob & Sadie's made this sign to commorate the long effort:

"Rome was not built in a day -- and they did not build it out of ALUMINUM!" Sign of the week!
This evening at Happy Hour everyone gathered around and sang Happy Birthday to me. (I'm 43 today!) Then we got a group of about a dozen people together and brainstormed for about an hour on the 1952 Cruiser project we are doing for Matthew McConaughy (Project Vintage Lightning). Some excellent ideas came out of this, which you'll be able to read about in the Fall issue of Airstream Life.
I want to publicly thank all the people who worked to put together this superb rally. It's a lot of work to put on a good rally, and the talented people who volunteered their time have made this rally one of the best in the nation. Everything, from the signup process to the goodie bags, from the entertainment to the presenters, was first-rate.
This is our last day in Colorado. Tomorrow we must hit the road to Ohio if we are to keep our appointment at Airstream. We're already packed and ready to hitch up. It's going to be four days of long hauling ... We'll also be saying goodbye to Rich C for a few months. He's heading to Florida for medical treatment, and we will probably not see him again until November. It is a bittersweet time for us, leaving the west and many friends behind, but we are headed home to other friends and family, and that will be a nice thing too.