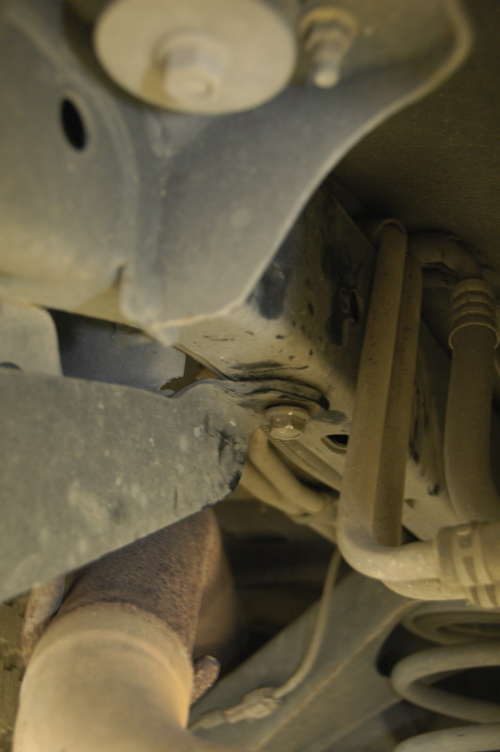 I'll get the maintenance item out of the way first. The forward right-hand bolt on the receiver hitch that I spoke of yesterday is not broken. It threads into a "blind nut" that is welded inside the frame. Apparently at some time in the recent past, the blind nut broke its weld, and the bolt loosened.
With the nut no longer attached to the frame, there's no way to tighten or loosen the bolt. We can't reach the nut because it is inside a fully boxed frame member. The nut just spins inside the frame when we turn the bolt.
Moreover, during investigation we found that the other forward bolt (on the left hand side) has the same problem. The weld holding that nut has broken as well, so that when we went to tighten it, it just spun. And the remaining four bolts were all looser than they should have been, although still well attached.
So the Armada now has a service appointment at the local Nissan dealer for next week. Both the Airstream and the Nissan are going in on Tuesday. With only four bolts really holding the hitch on, however, the Nissan is not fit to tow the Airstream. We are planning to borrow a Suburban from our hosts to shuttle the Airstream to its appointment, and we are borrowing a driver to shuttle the Nissan to its appointment, and Eleanor will follow in the Honda to move people around from one place to another. Somehow we will make it all work.
With that resolved, we are going to just enjoy the local area for the rest of the long weekend. New Hope and nearby Lambertville are interesting towns surrounded by beautiful countryside. Our courtesy parking spot by itself is absolutely gorgeous, with long sweeping views across green fields, deer near the edge of the trees, and geese hanging around the pond.
We dropped in on a locally famous old flea market this morning, and tomorrow we'll check out more of the area. It looks like we may not go to Philadelphia after all. It's a longish drive and there's more than enough right here to keep us occupied.