Fun at the sale
Parking at the dealership is nicer than a few campgrounds I've stayed at! All day Saturday we were surrounded by nice people (staff and customers) who dropped in to chat with us in our trailer. It was always a laugh when someone would open the door and see me typing at my laptop, Emma watching a Scooby Doo cartoon, and Eleanor nearby. They'd do a double-take, recoil for a moment, and then say, "Oh I'm sorry -- I didn't know anyone was in here!"
Well, that's why we put the "OPEN" sign by the door. Can you guess who drew it?
We gave a half dozen tours of our trailer during the day, and around 1:15 I was briefly interviewed by the local radio station for the live audiocast. We spent the rest of the day visiting with people, checking out all the Airstreams (we like the Safari Special Edition 25), and snagging free donuts.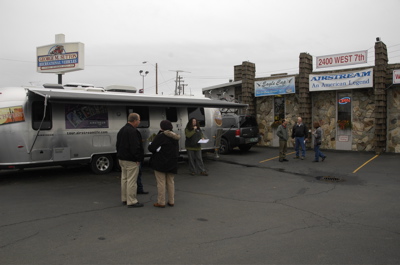 Last night a magazine reader and follower of this blog came by and took us out for Italian dinner. Dan Patch, a new friend, lives in this area and we had a great time visiting with him. Toward the end of the evening, I was able to recruit him to write an article for the magazine, too, so I expect we'll be hearing more from Dan in the future. What a nice guy.
It's being able to make friends everywhere we go that makes this trip so special for us. Sure, seeing the country is great, but building and solidifying friendships is really where it's at. One point of the trip for me is to look up as many current and future contributors to the magazine as I possibly can. We have friends all over the country now, and it's all because of our travels in our Airstream. That's why I get so enthusiastic about it.