Offroad adventures and our French Mis-connection
OK, we have had our offroading experiences. The Nissan is now, uh, "broken in" (a few scratches), and we've learned what it is all about.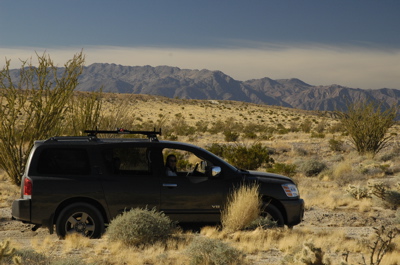 Yesterday we spent the afternoon checking out a slot canyon which is only reachable by 4wd road. You drive about two miles and then climb down into the canyon. The canyons go for miles sometimes. Serious fun!
Later, we took the scenic route through a few rocky washes (dry creeks), and found some SERIOUS off-roading spots. I wish I had a picture of us going down a steep rutted slope in 4WD LO, but at the time our thoughts were mostly of survival. The roads can go from sandy tracks to "mountain goat required" in an instant. In fact, the road with the steep descent was called "Goat Trail". It should have been a clue! Fortunately, most of our routes were fun and easy driving.
At one point, driving down a rocky wash, Eleanor asked if we could get the Airstream in there. Uh, probably not. But it would be a very cool place to camp -- very isolated, very private, very pretty.
We topped off the evening with a campfire cookout, and then I had to get to work. I've been working early mornings and late evenings so I can get the most out of the sunny days. If you see me on AOL IM late at night, that's why. (My AOL screenname is "rluhr" -- feel free to say Hi sometime.)
Today we snuck out of the "office" at 11 and headed out for more exploring. This time we hit a 4wd road that leads to "Wind caves", which are sandstone deposits eroded by the wind into interesting formations. On the way, we passed through a large canyon. Those canyons are magical. Fossilized mollusks make up some of the walls, along with sandstone, desert flowers, even bees. There's always something to stop and take a look at.
The wind caves are a one-mile hike from the road (mostly up), and it was the perfect day for it: sunny, 80 degrees, light breeze, dry. And the views from the top were spectacular.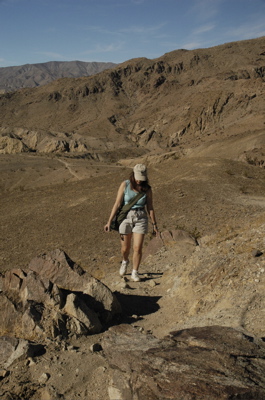 The caves are small but perfect for kids to climb in and around. I checked them for scorpions and similar critters, but they were all empty except for sand.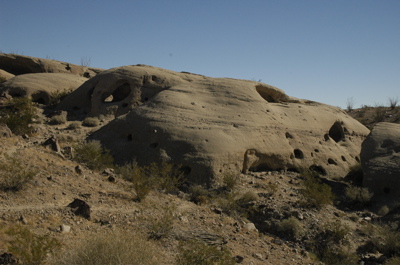 We did manage to uncover some interesting symbols drawn on the rock.
Our final venture was to Sandstone Canyon, which was extremely interesting at times. In the photo below we've just come out of one of the deep winding slots. But this spot was easy. At times we had to fold up the side mirrors and watch both sides to make sure we could fit! We did pretty well until we reached a spot where it was too technical to continue. I had to back out for about 100 feet, and unfortunately scraped the front lower bumper a bit along the sandstone. Oh well.
Back at camp, we found a note from Bruno Accart, a subscriber and blog reader from France. Bruno and his family are in southern California on their annual vacation. Unfortunately, Bruno lost my phone number and so he couldn't call today to tell me he was coming for a visit. He sent a note through this website but I didn't get it until I got home. By then, there was a note on our door: "Hi to Rich & you family. Bruno and Leila were here ... but not you. Maybe for the next time. Bruno & Leila -- FRANCE --"
Sorry Bruno! I tried to call you back but my mobile phone wouldn't let me call your mobile phone because your phone number is in France. If you see this -- give me a call at 1-802-877-2900. I have a t-shirt here for you!