Cigar City, USA
After a long week at work, Brett, Barry, and I decided to relax with a visit to Ybor City today.
"Ybor?", you say. "That looks like a typo."
No, Ybor City is a historic district of Tampa, where the cigars were (and continue to be) rolled by hand. Today Ybor City is a tourist district, but plenty of the original town still exists in the form of old tobacco workers' homes, cigar factories, and museums. At night, the main street turns into a facsimile of New Orleans' Bourbon Street, with bars and nightlife.
My two bachelor friends showed up at the trailer this morning, ready to cruise. (That's Barry on the left, and Brett on the right. Brett is not sneering, he's squinting because of the bright sun.) Now, technically I'm not a bachelor but I'm solo this week and that's close enough. So we piled into Brett's convertible and hit the open road ...
... with a stop along the way. The battery was useless. We had to jump start it, so our first destination was an auto parts store for a fresh battery, which Brett installed in the parking lot in about three minutes.
Ybor City is accessible by trolley car from downtown Tampa, but most people just drive right to Ybor and park there. Still, the trolley is a fun ride and worth the short roundtrip if you enjoy historic streetcars like I do.
Cigars are still made by hand all over Ybor. If you want to see how it is done, just walk into any one of the shops and ask. Most will do a demonstration while you watch, for free. If you want to take a lot of pictures like I did, a tip is appreciated.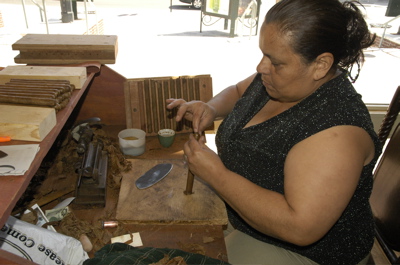 Lily made about six cigars while I watched, about one every minute. Her hands were so fast and skilled that I had trouble seeing some of the things she did. Even at 1/100th of a second, her hands were blurred in some of my photos.
After a few visits, we dropped in on the Cuban restaurant, the Colombia. Although this restaurant now has six locations all over Florida, this is the original one, and the best. It now spans the entire city block, and it was very busy even at 2 pm. The waiters wear formal black and white, the menu includes filet mignon for lunch, but you can still pick up a Cuban sandwich for $6.95 if you want.
I can also recommend the local historical museum (small but interesting) and just browsing the architecture and historical markers around town. Ybor City has a reputation of being a spot for nightlife, but for those who value the past, it's a fascinating place to visit any time of day.
I've uploaded a few more photos from Ybor City to the Flickr album. Click our "Pictures" link to see them.