Prepping the Nissan
Refitting continues amidst some fun. We mixed it up again today, with errands and homeshooling, then a big break at the pool in the afternoon.
The Nissan is almost ready for our 3000 mile trek to Myrtle Beach and then Las Vegas. I've had the oil changed, the brakes serviced, replaced the wiper blades and cabin air filter, and tomorrow I'll check the tires, get the car washed, and put the new roof rack on.
The cabin air filter might seem like a minor thing, but with the recent spate of pollen-related allergy problems Eleanor had, I felt very motivated to do it. We checked the owner's manual and found the cabin microfilter was supposed to be replaced every 15,000 miles. Well, we've done 17,000 miles through some heavy dust (in the desert) and through some heavy pollen (here). Take a look at the new and old filters and tell me if you think they needed changing.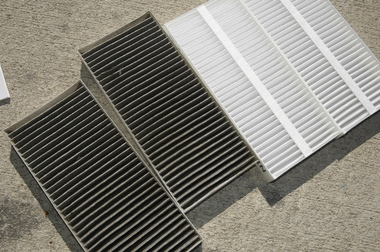 Click for larger if you like to look at grime.
I bought an extra set so we can change those filters again at the end of the summer.
Over the last two weeks I've been selling the Yakima bike rack parts on eBay, and buying replacement parts for a Thule system. Blog reader Dave Morrison sent me a picture of his Thule setup on his Nissan Armada. Thule has a set of rack "feet" that integrate into the Nissan factory tracks, with rigid crossbars. This is far superior to the Yakima system that attached to the flexible factory crossbars.
That's a picture of Dave's system. With the bikes mounted backwards, we can still open the rear hatch fully. With the fork mount on a rigid crossbar, the bikes will be rock-solid instead of wobbling all over the place as they have been.
Only problem is that one eBay seller flaked out on me and hasn't sent one of the bike mounts. Unless it shows up tomorrow, we'll have to depart town with one bike on the roof and the other in the trailer. Brett has promised to receive the second mount and bring it up to us at the Region 3 Rally later this month.