Roosevelt State Park, Morton MS
Another long drive ... but it is going to be worth it. Our overnight stop today is Roosevelt State Park -- a very pretty spot with campsites situated around a pond. I can't believe it's considered off season here, because the weather couldn't be better. Mid-70s, dry, green, quiet ... and yet the camp store and other amenities of the park are shut down until the season starts.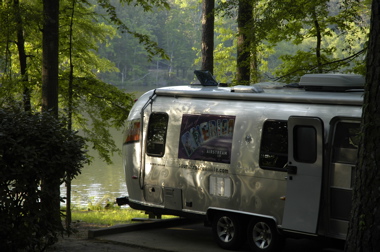 Are they waiting for Mississippi humidity and 90+ degree temperatures to strike? I don't get it, but on the other hand it's fine with us since the park is deserted and peaceful. We have a neighbor, also in an Airstream, but we haven't seen them yet. Otherwise, we are alone with the turtles in the pond.
As pleasant as it is here, this is just a stop along the way for us. Tomorrow we will drive up to the Nissan plant in Canton to take the factory tour. They build our tow vehicle, the Armada, along with the similar Infiniti Q56, so it's a homecoming of sorts. I was lucky to get a tour spot since they are booked up through the summer. Fortunately there was a cancellation.
The factory rules say no kids under 10, no cameras, no cell phones, and there's a dress code too (for safety reasons). So Eleanor and Emma and my camera will stay back in the trailer as they did in Bowling Green when I toured the Corvette plant.
We're playing around with the idea of driving part of the Natchez Trace over the next couple of days, too. We don't need to be in Texas until Friday, so there's a bit of spare time to take the scenic route. We'll decide tomorrow.