Happy Campers
Two of our favorite things are meeting happy new Airstream owners and meeting blog readers. Today we had the pleasure of both. Blog reader Ned came by to talk about his plans and ideas for post-retirement travel. He's already got an Airstream (Safari 25) but not enough time yet to go where he wants to go. Still, he had a few good ideas for us, which we will check out along our route tomorrow.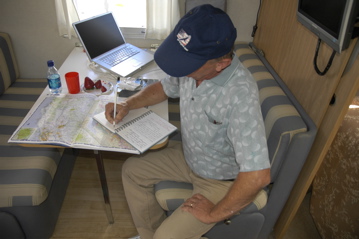 Ned signs the guest book
Emma spent much of the day bouncing down the giant inflatable slide with a bunch of other kids. Running up the steps to the top is serious work (I know, I did it a few times myself). So while she had a great time, she came back completely wiped out.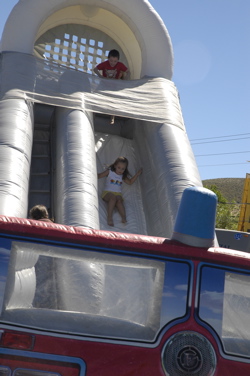 Then we met this happy family, who just bought a new Airstream Safari Special Edition 25FB at Mountain Family RV this weekend! They'll be taking delivery on Wednesday. We spent an hour talking to them about everything Airstream related. (I'm embarassed to say we never got their last name -- so when you guys read this, be sure to send me an email, OK?)
Thus winds down our visit to Mountain Family RV, and to Reno. We'll be heading into California tomorrow, with Rich C leading the way. We've discussed a few campgrounds we'd like to visit, and he'll pick one out as he drives through the Plumas County area, since he will be hours ahead of us. We'll try to rendezvous at the end of the day.