Under the weather

The foggy coast near Klamath, CA
Yesterday had patches of sunshine amidst the fog, but today has to be one of the most blah days we've had in months. Predictably, the north coast of California is foggy, but today it has been rainy too. Normally that would be no big deal for us, but everyone is feeling some degree of illness today. The cold Emma caught has affected everyone to a certain extent.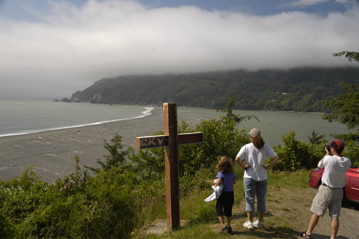 A sunny moment from the 4-mile "Seaside Drive".
Rich C and I went out this morning in the cool rain to scrub the bugs off the trucks and the front of the trailers. Looking at the bugs smashed on the front, the word "carnage" came to mind. Plus the trucks were still coated with green pollen from Lake Almanor. We got the rigs clean but both came away feeling unusually tired. I stayed in the rest of the day catching up on desk work while the rain dripped down.
However, you need a "down day" in this life once in a while. In addition to getting some work done, this has given us a chance to do some trip planning. We've worked out several alternate routes through Oregon, which we can choose according to how everyone feels from day to day. If we're congested and having trouble equalizing, we can take the coastal route. If people are feeling good and the weather is right, we'll head inland to Crater Lake. Either way, we'll end up at George M Sutton RV in Eugene in a week or so for some service and a visit.
We are planning to arrive at the International Rally on the 26th. During the rally, we will be reporting on certain events at the rally that blog readers have asked about. This includes the vote on the club's name change, and any action on the Base Camp debate.
Tomorrow we plan to start heading north again, and hopefully into some nicer weather. The next anticipated stop is Oregon Caves National Monument.