Bigfork, MT
We've arrived at Bert & Janie's house in Bigfork, near Flathead Lake. The drive up was fine, but fraught with construction zones. Arriving at Flathead Lake, the largest freshwater lake west of the Mississippi (just behind our own Lake Champlain in Vermont), we were greeted with spectacular views of mountains and blue water.
We got all the Airstreams parked in and around the driveway -- 4 in all, counting Bert & Janie's. Rich is parked down below the driveway in a secluded spot, we are in the circle drive, and Adam and Susan are in front of the garage. Bert tried to get a photo of all four from the roof of his house, but it was impossible with the trees and obstacles.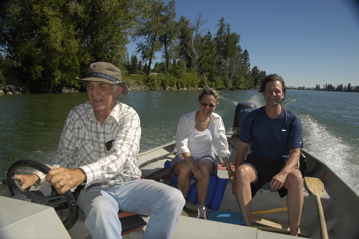 Bert took Susan, Adam and me out for a boat ride on the river. We spotted some young eagles, a couple of blue herons, and two osprey in their nest. Bert was our personal tour guide for the trip, which last for a couple of hours. I think Susan and Adam are beginning to see why courtesy parking is so cool.
I also spotted signs of an old practice: farmers using junked cars to shore up the river embankments. Kind of incongruous with the beautiful scenery here in Montana.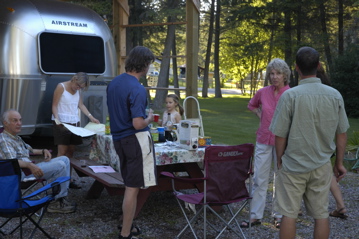 Dinner was shared at the picnic table in the middle of the driveway. We had a nice time but the mosquitoes have appeared, and eventually we fled to the house for watermelon. Bert shared with us his basement "natural history museum" (bear skulls, photos, artifacts, etc), and then it was 9 p.m., time to start the bedtime process with Emma.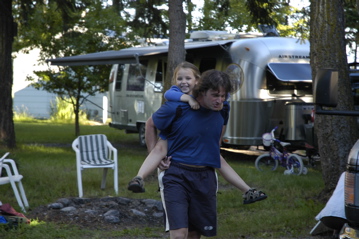 Tomorrow Rich C is going to relocate to Big Arm State Park, nearby, for a couple of nights. He'll meet up with his friends from the east coast and then rejoin us later. Our plan is to get up EARLY and head to Glacier National Park around 7 a.m. Bert has a big hike planned for us. He says we're going to look for pikas, but there should be more than just those furry little rodents to check out. We'll also drive the Going To The Sun Road. It should be marvelous, if Emma can hold up. If not, we have some backup plans. I expect great photos to come out of this hike.
Other items: Eleanor was up till midnight doing the laundry. Susan and Adam never did do theirs. The next morning, Adam and I were asking ourselves, "So why did we go to the KOA??" Instead of paying $38, we could have had the same water and electric hookups in a more scenic State Park for about $20.
Blog reader Peter suggested we use a 120v to 12v adapter so that we can inflate the tires on the driver's side of the trailer. Then we can use any convenient extension core. Good idea. Today I borrowed Adam's 120v compressor to inflate the tires. One had only 47.5 lbs in it (it should have had 60 lbs) so I'll be keeping an eye on that one.