Equipment Malfunctions
If problems come in threes, I'm afraid I'm in for a two-fer. And you're in for a long blog entry, because I'm going to tell you the whole story right now.
Modern full-timers rely on technology to get things done. In my case, I rely on it more than most, because I'm running a business from my trailer. So when things fail, backup plans are needed. But what do you do when the entire support system starts to collapse?
It started with our Garmin GPS. A couple of weeks ago while in Glacier we noticed that the internal battery was no longer holding a charge. This means the GPS has to do a "cold start" every time we use it, which takes a long time. We've come to depend on "Garminita" (as we call the British voice programmed into our unit). Having to wait five minutes or so before she woke up and started telling us where to go, has been a nuisance.
I contacted Garmin support yesterday from Jackson WY via email, and they've advised me that they'll fix Garminita under warranty, but we need to ship her back to the factory and have a UPS-shippable address for the return in 7 to 10 days. I will notify them that we'll pick Garminita up in Denver. The trick here is knowing where we're going to be in 7 to 10 days …
As I mentioned earlier this week, my Mac's hard drive failed during our stay in Yellowstone last week. I had a full system backup from 10 days earlier, and since I recognized the symptoms of hard disk failure, I was able to retrieve nearly all of my intervening work before the drive completely died. In just an hour I was able to move to the backup laptop (Eleanor's) and resume working as if nothing had happened. So that's OK for now, but we'll need to find a Mac Service Center, and it seems the closest one along our route is again in Denver.
We weren't planning to be in Denver for more than a day, but it looks like things could be changing.
Two days later, we picked up a screw in one of the trailer tires. Fortunately, we had a spare, because the screw punctured the tire in a place where patches are not advisable, and we were 60 miles from a tire dealer. OK. We'll probably replace the spare in Rock Springs WY.
Lately, my Verizon cell phone has been performing poorly. I've been missing a lot of calls, and it has been roaming to analog when other phones nearby are making digital calls with no trouble. Right now, it reporting "No Service" but Rich C's Verizon phone is happily placing digital calls everywhere in the campground. Admittedly this is not a huge surprise, since the phone got, uh, "damp" when Brett and I were jetskiing on Lake Mead last month.
I checked the Verizon website at the public library today and found that there was an authorized outlet in the Radio Shack up in Driggs. Perfect – only a few miles up the road. I got my opportunity to go check it out around 2 pm. There was a small fire across the street near the Market & Café, and the whole downtown was blacked out, which eliminated all the free wi-fi in town. So Rich C and I headed up to Driggs.
No luck. Verizon apparently has an east-west division, and authorized re-sellers from the west can't sell me an upgrade phone since we're from the east. I was advised to try the Verizon store in Idaho Falls, an hour away.
OK, but before I drive an hour, I'm going to call and make sure they can help me. Hmmm… how to call Verizon? I would dial 611 from my phone, but it's saying it doesn't feel like placing a call. So I borrow Rich C's Verizon phone and try 611.
No dice. We're on an extended network and 611 doesn't work. So I borrow a Yellow Pages from the campground and find the number for the Idaho Falls store. After a long wait, the tech support rep comes on and tells me that comparing two phones side-by-side isn't really a reliable way to know if my phone isn't working well. "One phone may be tri-mode, while another is pure digital, and you have different manufacturers, ages, etc," she explains.
Well, that's all nice, but I want the phone that works! I explain this concept to the friendly tech, who then tells me that my phone is out of warranty, and if I can just hang on to my malfunctioning phone for two more months, I'll get a cheap "upgrade" to a phone that works, whereas if I insist on a replacement now, it will cost me the full retail price.
Two months with my phone only working when I'm standing directly under a cell tower? No thanks. Rich C, who used to work in the cell phone industry (as did I), calls this "standard service."
So we have a dead tire, a dead computer, a faulty GPS, and a deeply traumatized phone. But we're standing tall nonetheless. Yes, my technology is collapsing around me, and I need my technology, but we're just going to be flexible.
What do you do in this situation? There are two basic options: (1) flee to a major city and get everything fixed; (2) extend your stay and try to work things out via Internet and UPS/FedEx. We like it here, so we've booked another two nights. I'll take a few hours to make the arrangements for repairing everything.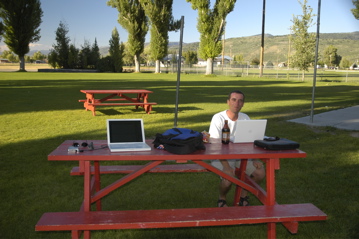 Duelling Macs on the picnic table in Victor, Idaho
UPDATE: Rich C and I went back to the park beside the Library on this fine evening and found power restored. We're both blogging and doing other work from a picnic table. Eleanor and Emma are off at the shoppe across the street getting ice cream sodas. It's another gorgeous evening in Victor ID.