Monarch Pass
Reluctantly we left Roger and Brenda behind this morning after visiting the site where they are building their new home in the foothills near Salida. The views in Salida improved this morning, with a temporary lifting of the clouds, and showed us how spectacular and panoramic the views are in Salida this summer. But it wasn't long before the thunderstorms began building again, as we began the long climb up to Monarch Pass on Rt 50.
The grade is only 6% up to Monarch Pass, but the road climbs and descends for about ten miles on each side. At the peak, we reached 11,312 feet and paused to ride the Monarch Pass Aerial Tram another 700 feet up a very steep peak.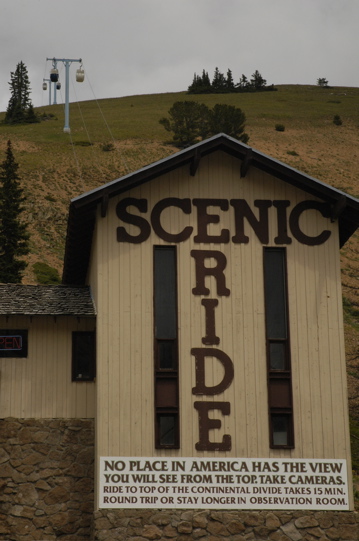 The reason I felt obliged to stop is that we've got an article coming up in a future issue of Airstream Life about aerial trams ... and this is one the author hasn't yet covered. So I took pictures for the magazine and some notes. My major note is that very steep vertical climbs in aerial trams make me really nervous.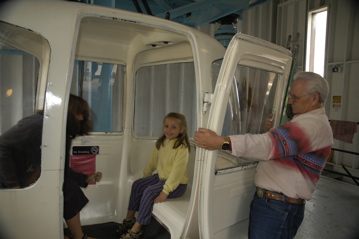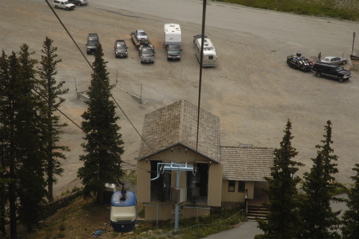 But Emma and Eleanor loved it. It was fun, but I was glad to get off it all the same.
Definitely don't forget your camera on this trip. It's short but very impressive. Several mountain ranges are visible from the top, and you can straddle the Continental Divide from the observation deck at the top -- from an altitude of 12,000 feet.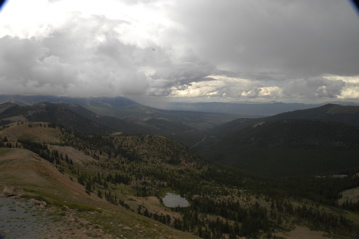 Everything worked fine in the Nissan and Airstream too. No problem towing up to 11,300 feet, and nothing exploded in the trailer. Last year when we went over 11,000 feet a bag of sour cream and onion chips went poof. And hey, all the wheels are still on!
Everything in Gunnison CO was booked except the KOA next to the airport, so that's where we ended up. It's a good thing we don't mind the sound of airplanes running up their engines, and taking off. (In fact, I kind of like it -- reminds me of going to Oshkosh and Sun'n'Fun.) We're parked on grass, our cell phones work, we have free wi-fi, and that's all pretty incredible considering how small Gunnison is and how remote we are.
Rich C came to meet us, up from his base in Cortez CO. We'll spend the next three days checking out stuff in the area. There's a lot to do. Tomorrow will be mostly a work day but then we'll get to Black Canyon of the Gunnison National Park and a few other things too.