Working at "home"
I thought I'd share a couple of pictures today of the crew "at work." I am usually found at my laptop doing something most days, but I don't often post pictures of any of us because work is not the exciting part of our lives. Work is, however, the focus of many days.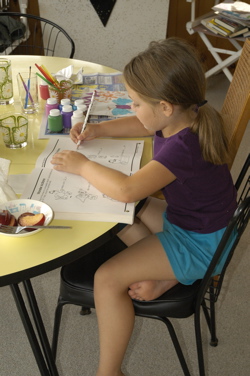 Here you can see Emma at her workbook, practicing skills for reading. She's coming right along, which I like to see. It's as exciting as when she was learning to talk and every week I noticed new words in her vocabulary.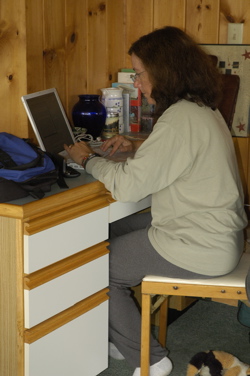 Eleanor spends time on her laptop too, once in a while. Usually she's emailing friends or researching recipes.
Today was tumultuous. Emma's uncle Steve departed this morning after breakfast. The rest of us worked through about 2:30 and then drove up to Bowdoin College to pick up Adam. (He caught the bus from Boston to come back up here and hang with us for the rest of the week, which is very cool.)
While we were out, a friend called from Vermont to ask for some advice about a business partnership that went bad. I had to give some hardnosed advice. I always hate having to tell people to get a lawyer. And, I worry about my friends who are having trouble, although in this case I'm certain they will land on their feet. (I should worry more about myself, since inevitably someone threatens to sue me for libel at least once a year! Such is the downside of being a publisher ...)
In the afternoon I bought the Nissan Extended Warranty for the Armada. It's comforting to have that resolved since our original warranty is up in 5,000 miles and I expect to log another 25,000 miles in the coming year -- most of which will be towing. If we eat another exhaust manifold, it will be covered. We're good until we hit 100,000 miles.
And then, in the late afternoon, I got word that an old friend, and a fellow who I respect very much, is battling cancer. I think we are going to try to rearrange our plans for October so that we can drop by and see him and some other old friends in Maryland. I'll have to start researching places to put the Airstream as close as possible, or find courtesy parking in someone's driveway.
Finally, Adam came over and we all had dinner together, and talked about everything while the moon rose over the Atlantic. It has been a day of work but nonetheless a good one. I am reminded that we are fortunate to have great friends, family, and freedom to roam the country visiting them.