Acknowledgements
Once in a while we meet up with people through the blog or in person, and they give us neat things to take along on our trip. I have been remiss in acknowledging them lately, so I'll catch up today.
Back in August, I met fellow Airstreamer Robert Stephan (of California) and commented on his cool Airstream belt. I'd never seen one before. Turns out he makes them himself -- they aren't available in stores. A few weeks later, I found in my mail a custom-made Airstream Life belt! Thanks, Robert! What a cool thing to do.
A few weeks ago I heard from blog reader Justin Belmont. He works for a company called Gnu Foods that has come out with a line of fiber bars. Justin sent us a package of these bars, and we all sampled them while driving down from New Jersey to Maryland last week. (It was the most interesting part of the entire trip!)
I'm sure Justin would like me to mention that Gnu Foods' Flavor and Fiber Bars have about half your daily requirement of fiber, etc. But what the heck -- they just taste good. I liked the cinnamon raisin, and Eleanor and Emma liked the chocolate. We'll probably pick up some more next time we drive by Whole Foods, because they are a very good car snack.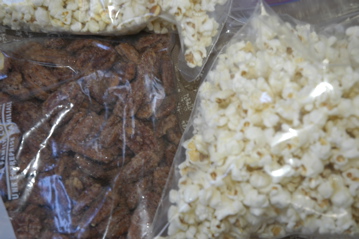 Yesterday, when we met Bobby & Danine, the deal was that we were going to have lunch and they would pick our brains about traveling full-time, Airstreams, etc. We didn't expect them to repay us in any way for this, because we just like helping other people get started on their travel dreams. But they brought a few small gifts that were very well suited to Airstream life: homemade sugar popcorn, kid's stories on CD, and homemade sugared pecans. More great car munchies!
What impressed me was that even though they weren't yet Airstream owners, they immediately appreciated what we can and can't use. See, being in a small space we can't store much. So portable, lightweight consumables (especially homemade treats!) are really nice gifts for that Airstreamer in your life. I haven't met the Airstream owner yet who didn't like to eat.
Today we are all working or schooling, but in a couple of hours we'll all regroup for some evening fun. Last night we had dinner at Bobby & Danine's house and it was great. The girls gave us a fashion show right before dinner, which was an amusing bonus. Tonight I have no idea what's on the agenda but there's no doubt we'll have a wonderful time. Perhaps we'll do some planning for this weekend's activities.