GSM Vehicles
Brett and I drove over to Plattsburgh yesterday. Our route took us across Lake Champlain on the ferry, so we broke out the cameras and hunted for good foliage shots along the way. The pickings were slim, due to a persistent overcast (and a cold wind on the lake that kept us in the car most of the time). Still, here's a picture of the quaint hamlet of Essex NY from the water.
Colin Hyde and Susanne Brown of GSM Vehicles met us in Plattsburgh to discuss the Vintage Lightning project, a 1952 Airstream Cruiser. Colin is the project manager, and Susanne is the interior designer. Colin is also into a lot of other types of vehicles, including this old school bus that he plans to turn into a custom Airstream tow vehicle.
GSM works on a lot more than just Airstream trailers. Lately he's picked up a few 1940s Vagabonds, and below is a Spartan trailer that a client brought in for a new frame and floor.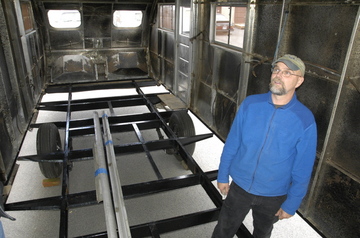 The interior of Project Vintage Lightning is being mocked up for the client right now. All of this is subject to change, of course, but the temporary structures inside gave us a good feel for the interior space. It's excellent -- plenty of room for living, lots of storage, and a comfortable bath and bedroom.


It is distinctly October weather now ... gray, windy, cool. The last few days haven't broken 60. I'm starting to feel ready to start heading south. Some areas around here have already had freezes overnight.