New countertop!
Our first upgrade has been installed: a countertop on the curbside of the trailer.
This is the beginning of something we've been thinking about for months. The credenza and two chairs provided in the Safari 30 aren't very useful relative to the space they take up. We have been traveling with only one of the chairs, but the open area near the door has been underutilized. Junk tends to pile up there, and we have no place for the laundry and other miscellaneous items.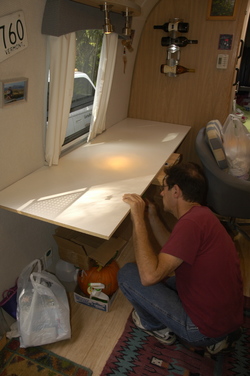 Barry test-fitting the melamine sheet before cutting
Our first plan, last winter, was an elaborate new set of cabinetry to replace what was there. When we got a $4000 estimate, we dropped the idea. Then we gradually scaled back on our grandiose expectations until we talked to Barry about it this week. He suggested a simple extended countertop, with off-the-shelf wire drawers mounted below. Perfect!
So we took a trip to Home Depot for $26.99 worth of plywood with white melamine laminated to it, a few screws, and some angle brackets. Barry already had the edge strips from his days as a cabinet maker.
A few hours later, and here's the result:
The credenza is still in place and still usable. The extra width of the counter is about the same as the width of the wheel well enclosure below, so the chair is still usable. But we are planning to replace the chair with something that folds up and can be put away. This will give us more flexibility.
The extended counter is wide enough in the corner area to allow us to install a microwave oven now, something we've never had in this trailer. I don't know if we are going to do it yet, but it's nice to have the option. It also gives me a convenient spot to put my laser printer.
I think the next upgrade will be an open wire drawer system mounted below the overhang of the counter. This will give us flexible space for laundry, shoes, anything! The frame of the drawer system will also provide support for the overhang. And because the wire drawers are see-through, they won't appear to block the sight lines as much as solid cabinetry would have. We'll be considering exactly what to mount there, over the next week.