Vicksburg National Military Park
Not having done any real research for the day's route, we didn't know much about Vicksburg National Military Park before we arrived. It is a drive-through park, with a convoluted 16 mile road that rolls up and down the hills that gave the Confederate Army the high ground as they attempted to defend a stretch of the Mississippi River.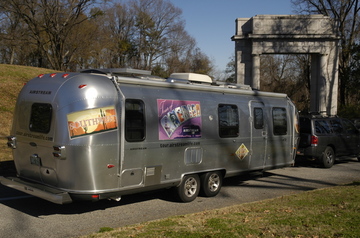 Dotted along the road are monuments, earth fortifications, cannons, and interpretive signs. It's the kind of place where you can spend any amount of time you want, depending on your interest. Despite the roads many twists, it was easily traveled by our 30-foot Airstream, and parking along the road was easy since hardly anyone was visiting today.
A highlight of this road is the ironclad gunboat "Cairo", the remains of which were rescued from the bottom of the Yazoo River after 100 years. It is now on permanent exhibit under cover, and a museum of its artifacts is nearby. The Cairo was one of seven magnificent boats of the "Inland Navy" created by the Union specifically for the Civil War. Covered in charcoal iron plating 2.5 inches thick, it boasted 75 tons of armor.
But the Confederates found the Achilles Heel of the ironclad, and exploited it by detonating a floating mine which mortally wounded the Cairo. With its port hull ripped open, the Cairo sank in 12 short minutes ... but miraculously all 175 crew survived.

Emma snaps a photo of the ceiling
Vicksburg NMP is not the sort of place that Emma finds interesting. She had never heard of the Civil War, and at age 6 her ability to comprehend it was limited. This meant a short visit before heading onward to Ruston.
Before we left Vicksburg, we took a short driving tour of the downtown and riverfront area. Four floating casinos have been established along the riverfront, but their impact on the rest of the city is not visible. Given the depressed nature of much of the town, I'm not sure that's a good thing.
We're established in Lincoln Parish Park now. This is a nice spot by a lake, with full-hookup sites. It's one of those places you might easily miss, but at least from our view before the sun set this evening, it's very pretty and (this time of year) not very crowded.
This evening we had dinner with Jody and Joe, who are responsible for our being here. They have revealed that we will have a full day tomorrow of red-carpet treatment courtesy of the people of Ruston. What that means exactly remains to be seen.