Benson, AZ
Eleanor and Emma got out for a little more rock hunting this morning before we packed it up and headed west. Even with the cold wind, Rockhound is a fun place with just awesome, ever-changing views.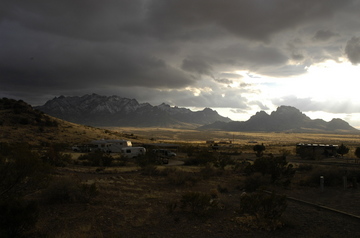 The sign at the dump station made me pause ...
How exactly do you "dump slowly"? Not to get into too much detail, but opening the black tank valve less than fully is not a good idea. I'll leave it at that.
We pulled the Airstream along I-10 to Benson, AZ today. There's not a lot along the way, except for three more tourist traps run by the same organization. This time I was granted permission to skip them.
We have at last gotten into the gorgeous scenery that I have come to associate with southern Arizona. In the afternoon the sun lights the desert floor and the craggy mountains all around, and the skies become so blue it doesn't seem real. I can see my camera will be getting a workout in the next few weeks, although it will have to go in for service at the "camera doctor" in Tucson soon.
Our friend Joe recommended this RV park. It has the unique distinction of having a good-sized telescope on site in a real observatory, and nightly viewings with an astronomer. Tonight the show starts at 7 pm, so we'll be there. The skies are marvelously clear out here in Arizona, and the viewing should be spectacular.