Back in Organ Pipe
It was a wise move to abandon Spring Break Land for Organ Pipe Cactus National Monument. We got a good night's sleep for a change. I didn't want to come back from vacation feeling run-down. And the advice I got about not staying in Puerto Peñasco turned out to be very wise. Even as we were hitching up in the middle of the day, the campground was emptying out of people over 30, and their rigs were being replaced by elderly trailers dragged in by tractor. The campground rents those old beaters to the college students, and our trailer was quickly being surrounded by them. It didn't bode well for sleep.
Beside the Sea of Cortez the temperatures are much more moderate than in the Sonoran Desert heading north (which includes Organ Pipe Cactus National Monument). We left Puerto Peñasco in the low 80s with a slightly damp sea breeze, and 30 miles north when we stopped for lunch it was 108 and utterly dry. Fortunately, we found shade from a tamarisk tree in a roadside pull-out by a small ranch.
At this point on Mex Hwy 8 there is a sister park to Organ Pipe, called El Pinacate y Gran Desierto de Altar, but everyone just calls it Pinacate (PEEN-a-kot-tay) for short. We stopped into to the visitor center at Km 51, but the gate was closed and nobody was in the visitor center. The door was open so I picked up some info and read the signs as best I could (they're all in Spanish). Bert Gildart will be writing an article for the magazine about the Sonora Desert and I plan to contribute a sidebar about Pinacate. It's an interesting place with a huge volcanic landscape, numerous cinder cones and lava tubes, a large bat population and much more.
Google Earth location of our lunch stop. Note to the west of our stopping point you can see the volcanic shield of Pinacate.
US Customs turned out to be no big deal. We waited in line for about 20 minutes, then had a one-minute interview with an amiable agent and we were on our way without even an inspection of the Airstream. The agent claimed to have seen Airstream Life magazine but I think he was pulling my leg.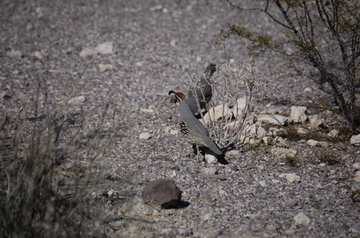 Gambrel's Quail in the campground
When I said in an earlier blog we'd be back to Organ Pipe I wasn't thinking quite so soon, but we were all glad to be back, even with temperatures running about 100 in the afternoon and no air conditioning. It was just too obnoxious down in Puerto Peñasco, and this place is an antidote of peace and quiet. The only sound last night (other than the amusing ranger program, which was a sing-along of cowboy songs) has been the yipping of coyotes in the distance.
We pulled out some of our tricks for handling extreme heat. These include soaking our shirts in water, running all three Fantastic Vents, drinking lots of cold water, eating ice pops, soaking our feet in a pan of water, and napping. By sundown at 6:30 p.m., the temperature was a bearable 90 and after the ranger program it was 80 outside and dropping. With plenty of water, you can stay comfortably cool in almost any heat.