Desert boondocking
We moved out of the Palm Canyon campground today to do some desert boondocking. Here in Anza-Borrego, there are places where you can camp indefinitely at no charge. One such place located just outside the Borrego Springs city limits is known as "Pegleg". We hitched up today at noon and headed over to become desert rats.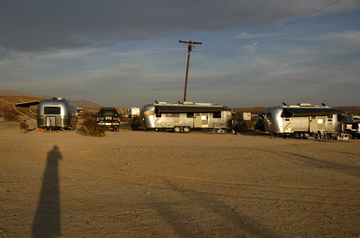 Rich C, and Larry & Bill also came over, so we have our three Airstreams parked together for another night. This is a funky spot. Pegleg is named for Pegleg Smith, a teller of tall tales and a prospector, who supposedly found a gold mine around here decades ago. Of course, nobody knows where it is, but everyone would like to find it. If you want to find it, just add 10 rocks to the pile here at Pegleg.
Rudy, a fellow Airstreamer parked nearby, is like many others who come back here year after year. We first met Rudy in January 2006 and he told me about this spot. Ever since, I've wanted to come back to check it out ... and wouldn't you know, Rudy's parked right up the slope. He came over tonight to tell us about his trips to Baja.
It was hot again today, with temperatures in the upper 80s and strong sun. Of course boondocking means no air conditioning, but with the natural breeze, the awning, and our three Fantastic Vents it was very comfortable. In this part of the desert the temperature quickly moderates as the sun sets, and by 5:30 it was perfect for Emma and I to take an exploratory bike ride around the area.
By 7 pm, right after dinner outside Bill & Larry's trailer, a strong wind came up which encouraged all of us to take the awnings down. It is my rule of thumb that the awning should come down at night, since whenever I neglect to do so there is inevitably a high wind at 2 a.m. Too many times I have been outside in my pajamas taking down the awning in the middle of the night!
Once again this evening the bright stars filled the sky and if possible they were even brighter than before. Out here we are clear of even the small amount of light generated by Borrego Springs, although over the mountains a dim glow can be seen from San Diego. We all stood out there admiring the incredible view. I think we're all happy to be out here, feeling independent and in a real camping mood, eating outside, seeing the stars, and enjoying the quiet.