Four Corners Unit Rally
This afternoon we dropped in on an Airstream rally being held about 25 miles away, by the newly-formed Four Corners Unit of WBCCI. We didn't know a single person attending, but a couple of them invited us by email anyway. Rather than move the trailer out of our current campground, we just drove over in the afternoon, and on the way we encountered the International Wildlife Museum by chance.
The museum houses an impressive collection of stuffed and/or mounted creatures, from butterflies to elephants, and everything in between. The only live creature we spotted was a tarantula; Everything else is a creation of taxidermy or model-making. It's a lot of dead critters but the presentation is good and well worth the $7 admission. The only part that we didn't linger over was the extensive presentation of scat from dozens of different animals ... each specimen extremely life-like and fresh-looking.
After the museum we cruised over to check out the Airstreams. Not bringing the trailer turned out to be a missed opportunity, because the rally was being held at the beautiful Gilbert Ray Campground in a county park. The views at Gilbert Ray are panoramic, and from many campsites on Loop C we could see the observatories of Kitt Peak to the south as well as the Tucson Mountains to the north. It's a sweet spot to go camping, especially with the skies as crystal-clear as they have become.
Even though we didn't know anyone, it took only about a minute to meet Brent and Tiffany, the hosts of this event, and then we were quickly introduced to the rest of the crowd. Although we planned to stay only a few minutes to say hello, they dragged into the potluck dinner, Emma hooked up with another little girl, and then there were tours of people's trailers, and it ended up being about 8 p.m. before we finally said goodnight.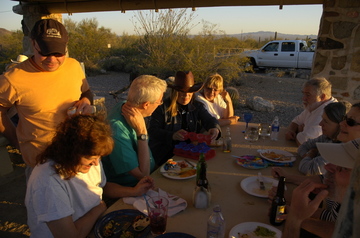 Most of the rigs at the rally were new ones, but we did spot an immaculate 1989 Airstream Land Yacht "Squarestream" and get a quick tour of it. The Squarestreams may be regarded as "not true Airstreams" by some but I think they are a fascinating part of Airstream history and fun to have at any rally.
Had we towed our Airstream over we'd probably still be sitting up with some of the folks, talking and making some new friendships. As it was, we got invited to a couple of other events, including the Albuquerque Balloon Festival in October, and we'll probably go to one thing or another. The balloon fest sounds ideal -- we get to park on a hill overlooking the launch site and watch balloons flying around for days. I'll have to reserve that soon.