Leap of faith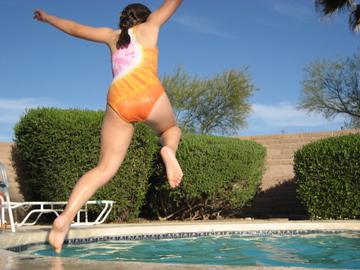 I thought this picture from today was analogous to many things we've done in the past two years. Selling the house, full-timing, picking a new place to settle, and now the real estate question. Sometimes you've just got to take a giant leap and hope for the best.
Of course we look before we leap. Although it may look to outsiders that our moves are random or oddly motivated, in reality moderation is our goal. We just happen to believe that conventionality should also be in moderation...
Likewise, a lot of people who have written to us and said, "I hope to do that someday!" I hope you do, too. For some of you, the stars will align and the right moment will be clear. But for most, there won't be a clear sign and at some point you will just have to make that leap, perhaps walking away from a perfectly good job, house, or neighborhood to take an adventure whose outcome is not guaranteed.
Emma's leap of the day was to get re-acquainted with the deep end of the swimming pool. Leaps like this are the outward signs of having conquered fear, which is always a great thing. Something to think about. Have you taken a leap lately?