3BR, 2BA, ugly kit., nice vu, hi price
We looked at another couple of houses today. It feels like the search is narrowing, but there's no slam-dunk yet. There are 8,000 properties for sale in the Tucson MLS, and yet it seems like every one we see is holding out for a high price based on the frenzied market peak of 2005.
The latest one is owned by one of the hundreds (thousands?) of California investors who helped drive up prices. Now a lot of them are left holding the bag. This one is typical -- bought by starry-eyed speculators with 5% down, lightly made over, and left vacant for two years. Yet they expect a tidy profit of 50% even in a slow market.
It's frustrating for us as buyers, because many of them won't negotiate. Too many people are watching either "Flip This House" or "Flip That House" on cable, and getting the idea that real estate speculation guarantees a big return. Most of them will be disappointed, as this article explains.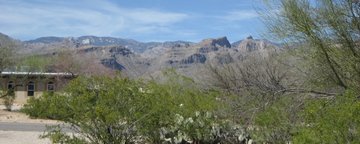 The last house we saw today has little charm or curb appeal, a crummy kitchen makeover and a hideous backyard ... but the front has a pretty decent view (above). Mostly we're interested in it because it is close to the school we like for Emma, it has space for the Airstream, and it's in a nice quiet spot up near the mountains. We shall see. We've learned not to get our hearts set on anything, since we've already passed on a few other houses with inflexible owners.