The two-home strategy
Today was home inspection day.
The house needs some roof work but overall it passed. So that step is done. With each milestone we get closer to being able to head out on the road again.
I'm beginning to realize that we are getting closer to our ideal. Over the past few days I've been exchanging email with blog reader Mike Young. As he and his wife head transition into retirement, they've come to many of the same conclusions as us.
Mike writes, "As a travel trailer rather than a full-time mobile home, the Airstream is ideally suited to the strategy that you and I have. A fixed home in a nice place during the coldest, wettest, shortest days/months of the year and a mobile home during the summers when outdoor living is attractive in most of the US seems like the ideal solution for those who love to maximize the opportunities to enjoy the great outdoors. House + Airstream. Perfect."
Of course, life is rarely that simple, and as you know our life is complicated by the demands of work and family, like most other people's lives. We aren't retired, so this two-home strategy won't be a piece of cake. But it seems worth investing in, even with the inevitable compromises. Our challenges and successes in executing this strategy will be a major theme of this blog going forward.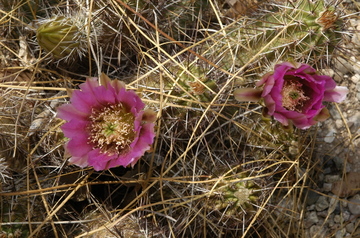 Here in our temporary home at the RV resort, the desert is blooming for springtime. The cacti respond well when they've been watered, and the cacti here are well pampered.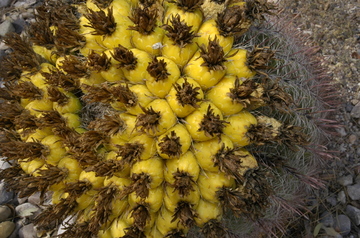 Fishhook barrel cactus with fruiting bodies
Today Emma is feeling much better, although not fully recovered, and it is absolutely beautiful outside with comfortable temperatures, so we took her for a photographic safari around the park.
At first glance it seems as though nothing is blooming, until you take a closer look. Desert flowers range from showy to subtle, but most fall in the "subtle" category. You need to slow down and look closely to see the more delicate flowers.
As frequent travelers, a big part of our house strategy depends on everything being "low care". It's easy to overlook the plantings. I don't want to come back to dead things, and I don't want to have to worry about pruning, watering, fertilizing, etc.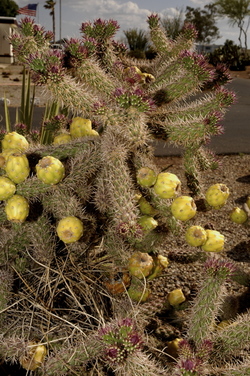 Some of the plants here in the park are native, but the most dramatic ones tend to be exotics. Part of our reason for studying them is to decide what sort of things we'd like in our backyard. I think for the most part we'll aim for native plants. They are adapted to the climate and need very little care or water.
Just northeast of here is the Ironwood Forest. The town of Oro Valley and Marana sit in the middle of this "forest", which is not like an eastern forest with trees, but rather a dense area of desert plants that has a distinctive look. Saguaro, ocotillo, elephant ear, palo verde, mesquite, agave, and many others grow there. It's very attractive and lush-looking. I'd like to bring some of that look to our backyard.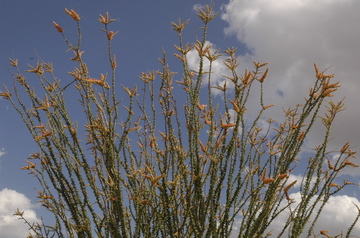 Octotillo in bloom (technically not a cactus)