Pipestone National Park and beyond
This has been a different sort of trek for us. Normally to cross the country the distance of Las Vegas to Vermont we'd take about one to three months. This time we are doing it in nine days. That's beyond whirlwind. I am reminded of tourists from Europe who come to the United States expecting to see the Statue of Liberty, the Grand Canyon, and the Golden Gate Bridge in one spectacular 14-day tour package.
Sure, you can do it, but it helps to own a jet. Since we don't, our compromise has been to break up the drive with lengthy stops each day. Yesterday's stop was at Pipestone National Monument, in a quiet part of Minnesota.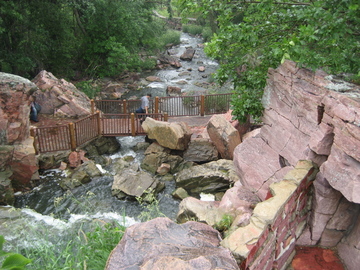 The falls at Pipestone National Monument
Pipestone is one of those lesser-known national park sites that you have to detour off the highway to visit, and thus is not heavily visited. But it is a fascinating glimpse into a bit of native American history and there's a really nice short hike through the Pipestone quarries. The park also had the advantage of taking us off I-90 and into the rural heartland of Minnesota, which turned out to be a scenic and pleasant way to go.
It certainly improved upon I-90, which was frequently bumpy and amazingly dull. Driving along it I had the constant sense that we were missing things. The grasslands went from shortgrass to mixed to tallgrass as we headed east, the lakes began to appear more frequently, and then suddenly we were in the humidity of Minnesota and everywhere it was green and mowed. But what of the grasslands we streamed through? We'll have to see them next time. I have a feeling there are great stories there.

Historical graffiti at Pipestone National Monument
Eleanor and I are having trouble adapting to the humidity. "It's only 80 degrees!" we say, "Why does it feel so hot?" Back in the southwest it doesn't even feel warm until the low 90s. We're used to not feeling sweaty. We've lost our northern acclimations.
The drive has been mammoth. Normally I don't bother to do much research along our proposed routes and this time I've been bitten for it. We usually plan a light travel day of no more than three hours, so there's plenty of time to explore along the way. On this trek, our driving days have run 8-10 hours, which is punishing if you want to stop a few times.
Also, we didn't research our stops in advance. We're so experienced at finding places to stay that we usually just wing it. Our feeling is that we'll always have a place to sleep (the Airstream behind us), so our only problem is finding a place to park -- and parking is easy. This has proved true but it has been the height of challenge for us to find a spot at 10 p.m. or later while remaining calm and not snapping at each other.
Last night we passed up a couple of truck stops in hopes of a quieter spot, and ended up at Amnicon Falls State Park in northern Wisconsin east of Duluth. This seemed like a great idea except that all the sites were tough back-ins (sized mostly for tent campers and small RVs) and it was pitch black, and there was no cell phone service (hence no blog last night), and we were tired.
So there we were, trying to back a 53-foot rig into a space only about 12 feet wide from a single-lane road with a 90-degree bend, a steep ditch to one side, and batteries failing in one of Eleanor's two flashlights. To avoid bothering other campers, we did it entirely with hand signals and whispers. Try that sometime. It is a testament to our long experience on the road, and perhaps the strength of our marriage, that we survived this and still slept the same bed when it was finally over.
We are posting this from a roadside stop east of Ironwood Michigan, somewhere near Lake Superior. Phone service is getting spotty and frankly I had to stop at a motel to snag wifi to post this. We are headed up to a remote park of the Upper Peninsula to visit with Dr C and it's questionable whether we'll be able to get online again. Then our route takes us into Ontario for at least a day, where my Verizon Internet card doesn't work either, so if the blog disappears for a couple of days, that's why. We'll be back.