Utah and Wyoming
We are cruising right along, unfortunately at the speed of the average American vacation: 65 MPH. If I ever claim to have "seen it all" in America, please remind me that we passed about fifty sights, towns, overlooks, forests, parks, and festivals today -- all of which I would have liked to have stopped and explored.
We tried to start off slowly, with a cruise through Provo Canyon near Salt Lake City. This little detour takes you through a spectacular canyon drive, and past Bridal Veil Falls. We stopped in for breakfast in the Airstream and a short hike to the falls.
At the base of the falls is an abandoned aerial tramway. This must have been a spectacular ride when it was running, because the tram line runs steeply up the cliffs to a little observation station about 1000 feet above. We did an article in the Spring 2007 issue of Airstream Life on aerial trams all over the country, and I would have liked to have included this one, but it's only an abandoned wreck now.
We did a little math and realized that unless we stepped up the pace, we would have no chance of getting to Vermont by Saturday. In fact, we'll probably be a couple of days late. So we hightailed it through Wyoming all day, stopping only for gas and a slice of highway trivia called Little America.
Little America is almost the Wyoming equivalent of South of the Border, or Wall Drug, or The Thing? or any other number of famous highway stops. It's a hotel, truck stop, restaurant, and gift shop spread out over several acres alongside the highway. Their billboards are relentless along I-80, extolling "31 inch TVs in every room!", "24 hour restaurant", "24 hour mechanic", etc. We ignored most of them, but they got us with the last billboard: "50-cent cones!" How can you say no to a 50-cent vanilla/chocolate swirl soft-serve ice cream in a cone?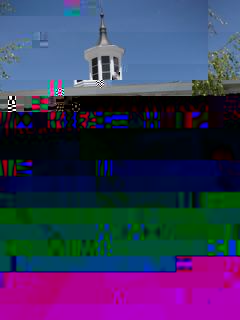 I don't care what anyone says, Wyoming is an absolutely beautiful state, and even the drive along I-80 is fascinating and constantly changing -- even without ice cream. I've driven it twice and enjoyed it both times. This state is loaded with diversity, from Yellowstone and the Grand Tetons, to the fossil beds, to the oil fields, and then to the green piney mountains between Laramie and Cheyenne. We'd like to spend more time in Wyoming on a future trip.
We were tempted to spend the night in Cheyenne. Not only will there be an article in the Fall 2007 Airstream Life about a famous Airstream owner who happens to live in Cheyenne (and whom I'd like to meet in person), but there's also a Sierra Trading Post outlet there. We're going to buy a family tent for use this fall and winter and Sierra Trading Post might have been a good spot to shop for one. Too bad the outlet was closed early today (Sunday). They even have RV parking, so I can recommend it as a convenient stop right off I-80 in Wyoming.
Tonight we are in a municipal park not far from the state line, in Kimball, Nebraska. According to "Don Wright's Guide to Free Campgrounds (Western Edition)" this park allows free overnight RV parking. The cops have cruised by once already and didn't show any interest in us, so I think we're all set for tonight. This park is notable for one thing: it contains a decommissioned Titan Missile standing up on end in one corner of the park. Free parking and a genuine Cold War artifact -- beats the heck out of the usual campground.