World Series of Poker
We met up with our Airstreamer/poker playing friend Brian this afternoon for lunch at Caesar's Palace and a tour of the World Series of Poker, going on this week at the Rio.
The World Series of Poker (WSOP) is a lot more than just a tournament. It's about sixty tournaments, all going on under one roof. The big games are televised and can cost $10,000 to buy into, and on the other hand there are a lot of games that cost as little as $1,000 to enter. Pretty much any variation of poker you care to play can be found.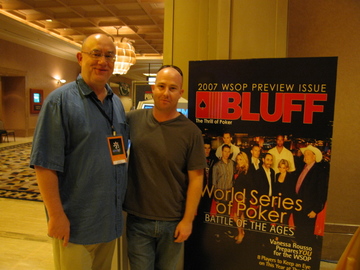 Tim "The Poker Shrink" and Brian at WSOP
Of course like any sport, poker has its share of superstars. There are plenty of pros, a few dozen sponsored players (from online gaming sites), and a handful of "legends". The nice thing is that the tournaments are fairly open and it's easy to meet the superstars up close and even talk with them. That makes it great for the fans.
The challenges of a tournament like this are many. To win, you've got to be a consistent player with endurance. They play for up to 12 hours each day, for several days. The pros have to put up with a lot of amateurs, until the amateurs get knocked out. And nobody is guaranteed to be successful, no matter how good a player they may be.
Brian is also the driving force behind ThePokerAtlas.com, a site where you can submit and read reviews of poker rooms all over the country. Poker has experienced a huge resurgence since 2002, and Brian's site has become increasingly popular.
Brett and I also took a walk through all the new (2008) Airstream models that are being introduced at the dealer meeting this week. I'll have photos of those tomorrow.