A perfect summer day
After posting my call for more Airstream visitors, I received an email last night from Mac and Linda, who have been traveling all over the US for the past three months. Now they are visiting family in Lake George NY, which is about 90 minutes south of here. On their way up to the Ben & Jerry's factory in Vermont they stopped to meet us.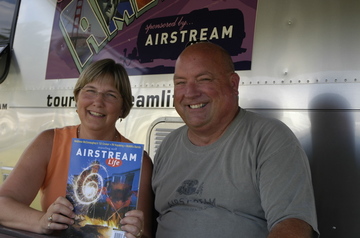 Emma and Eleanor were in the trailer getting ready for Emma's swim class when Mac and Linda arrived, but we've grown used to having visitors to the trailer at any time, so it wasn't any problem at all. E&E stayed inside while Mac, Linda, and I caught some shade under the awning. (It's been another 85 degree day here.)
I thought Mac and Linda would just say hello and zip back out to the highway to get on their way to Ben & Jerry's, but we had such a nice time talking that they stayed for about an hour. Not long after they headed off, I got a call from my parents inviting me to join them for a sandwich by the banks of Otter Creek. We rarely get a chance to do something like that together, so I jumped at it.
Vergennes has a little Falls Park that few people visit, or even know about. It's just a short distance from the tiny downtown that defines this "smallest city". Boaters from Quebec come all the way down Lake Champlain and then up Otter Creek to get to this peaceful spot. There are even electric and water hookups at dockside (not accessible to RV's, sadly). Coming down to the Falls Park you can get a perspective on Vergennes that most people never see. I sat there with Mom & Dad and had a moment to just hang out together in a beautiful spot. That's a great summer thing to do.
This evening was another mellow experience, with some local friends and their 1-year-old boy, and a few pizzas from the Brick Store. The Lake went dead calm, which means warmer water in the shallows, and so we waded in for a little while. Even on its warmest days, Lake Champlain is refreshing. After dinner, a few yellow sparklers, and time to plan next week's trip to the County Fair, it feels like we've had the perfect summer day. We're going to try for another one tomorrow.