Farmer's Markets
We hit a couple of the Farmer's Markets again today. The primary reason was to capture photos for an article next year in Airstream Life, but of course there's also the side benefit of munching one's way through an incredible variety of food.
In Burlington, the Farmer's Market is held in City Hall Park, just a few blocks uphill from Lake Champlain. This is a big one, with everything from maple syrup to Bosnian meat pies. I tried a really good local root beer, a buttermilk doughnut, two local blue cheeses, and a couple of bites of the meat pie. That was a tiny fraction of the things we saw, but I was more engaged in photography than I was in grazing.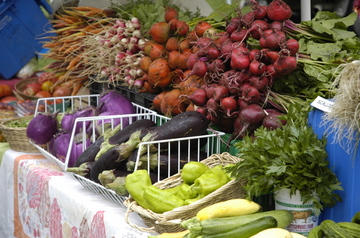 The vegetables were beautiful, as were the flowers, bakery goods, and dozens of other goods. The Farmer's Markets don't just feature groceries, either. We found honey, wine, jewelry, handmade clothing, tortillas, turned wooden bowls, beeswax candles, and many other things. It's easy to spend an hour or two browsing all the great stuff.
Some of the vendors were adding music to the mix. In addition to this fellow (a blacksmith), another couple was jamming on guitar and harmonica.
A Farmer's Market is one of the great ways to explore a local community without driving around. All of the craftspeople, the small farms, and local producers of all types come out and bring the community to you. Even if you don't plan to buy anything, a peek at the market gives you an insight into the values of the community and the sorts of things that are still developed locally.
It's also a great place to meet people and, by talking to them, learn about things you'll never hear about from the Chamber of Commerce. I grew up here and still picked up a few things from talking to the maple syrup guy. Sure, there are a lot of people who produce maple syrup in Vermont, and I can find some any day just by going to the grocery store. But will the impersonal bottle I buy in the store tell me a hidden place to go hiking?