All a-board!
This wakeboarding thing has really gotten my attention, along with Steve and Caroline. Since are sort of competing against each other (in a friendly way), we are all motivated to keep trying new things on the board.
Last week the conditions on Lake Champlain were tough. We had consistently wavy evenings and the wind just wouldn't die down. I had to pull the awning in on Thursday, even though it was tied down with a "Hold Awn" system. It did indeed Hold Awn but the wind was getting a little past my comfort level.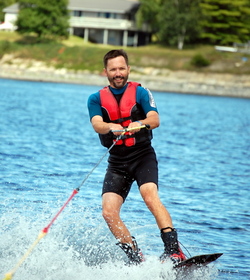 The wind meant waves, but wakeboarders like calm water, especially for tricks. The glossy photos you see in the magazines of people doing stupendous tricks usually also show dead calm water. We don't get calm water often up here, so we've decided to adapt the sport to local conditions. We're developing a technique for rough-water boarding in waves up to three feet. It's more like surfing, really.
These photos were taken on a pretty decent day, but last night was brutal. The waves were running in three-foot swells from the north, and once the boat was out of the bay, wakeboarding was mostly a matter of survival. Just getting up on the board was tough because I kept getting swamped by rogue waves, and I couldn't even see the boat over the swells until I was up. Once underway, the ride was wild and unpredictable, bouncing over the white-capped tops and crashing down into spiky green valleys. That's Lake Champlain boarding!
This will be my last chance to enjoy the lake for a while. We're gearing up for the next few months of travel in addition to our relocation, and this week will be very busy. There's the usual trip prep (checking all the running gear of the trailer, pumping up the tires, cleaning, etc), and also last-minute medical appointments, vehicle inspections, re-packing for the upcoming Fall/Winter season, and of course loading the moving truck.
Emma has a collection of tropical fish that live permanently in an aquarium in her grandparent's house. The fish seem to die off one at a time rather consistently, and this week Hazy's number was up. Emma and Eleanor demonstrated a little recycling by burying Hazy in the vegetable garden, and then we talked about how the Pilgrims learned to grow corn in poor soil from the Native Americans, who told them to bury an alewife with each hill of corn.
Finally, for no other reason than that it is a different sort of picture, here's a fuzzy shot of a cardinal browsing the feeder. The picture was shot in low light and had to be pumped up, and the result was a sort of impressionist view of the bird feeder at sunset.