Precious weekend
A fine weekend is more than just good weather. It's a combination of subtle cues that build up to a happy, relaxed, slightly tired, and memory-filled conclusion. For me, it's also a collaboration of colors (green trees, blue water, pink flowers, brown wood signs, and orange hues of sunset), and sounds of people playing, and smells of plant fragrance and cedar trees. By those measures, it has been a fine weekend.
On Friday Eleanor met a friend of hers and together they took the kids out for blueberry picking. Of course you can buy pre-picked flat of blueberries in the grocery store for less money than you pay to pick them, but that's not the point at all. If the adults don't get that point, the kids will, but in this case everyone saw that a sunny Friday afternoon was the ideal time to wander among the bushes, and so they did.
On Saturday we drowsed and puttered until late morning, then headed back to the lake for more puttering. In the afternoon we were supposed to head 70 miles south, to attend the birthday party of "Two Ton Tillie", the 1967 Airstream owned by our friend Gail. Tillie is, of course, 40 years old and still looking lovely at her age.
Alas, the beautiful weather seduced us and we never did get around to climbing in the car for the party. Instead, I joined Steve and Carolyn for a boat ride across the lake to Split Rock Point (NY).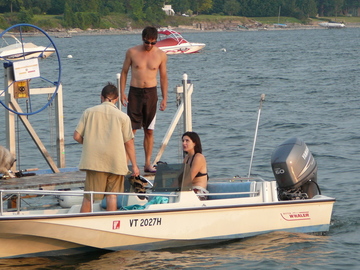 The lake was disturbed on Saturday by sun, wind, and a cold front. In the bay the waves weren't bad, but crossing the lake we encountered the biggest swells I've ever seen on Lake Champlain. The little Boston Whaler was definitely challenged at times, and we had to proceed carefully.
On the New York side of the lake, iron mining was once a huge industry. South of Split Rock Point you can see big heaps of blasted shale sliding down the steep hills to the lake's edge. (Google Earth location.) At the shore here, a step into the water put you almost instantly in 40-50 feet of water, and not much further out, the bottom drops to 100-200 feet in depth. We tied up the boat here and hiked up the loose rock to find a few abandoned mines and some spectacular views up the lake.
The water is at its peak temperature right now, and there's nothing better than jumping in deep clear warm water right from the rocky edge of the lake to cool off after a hike. We had just finished doing this and were hiking back to the boat when we came across a porcupine. He waddled rather haughtily away from us, and demonstrated his impressive climbing skills up a few boulders. Porcupines like rocky dens, and the loose debris from the mining operation was a bonanza for him.
Sunday morning Emma and I joined Steve and Carolyn for a hike up Mt Abraham (Google Earth location), whichi is part of the Green Mountain range that forms the spine of Vermont. We hiked the Battell Trail up to join the Long Trail and paused at a shelter. Unfortunately, Emma has had a minor cold for the past two days and she wasn't up to the full hike, so we turned back at this point, making our hike about four miles roundtrip. The views from the peak at Mt Abe are supposed to be spectacular, and today was very clear so the viewing would have been superb, but compromises have to be made sometimes. We had a nice time checking out newts and toads along the way.
Eleanor has not been able to join us for hikes and other active things lately. A couple of weeks ago she stubbed her toe severely and may have broken it. She's hobbling around and it seems to be healing slowly, so it's all she can do to get down to the rocky uneven beach once in a while, and she definitely can't walk into the lake right now. It has been frustrating for her to miss out on all that action.
Still, dinner on the deck is something everyone can enjoy, and this time of year that's what we have almost every night. Salmon, mushroom risotto, and green beans were tonight's dinner, which we ate while the sun dipped down into the Adirondack Mountains across the lake.
Already we can feel the end of the season coming here in northern Vermont. After dinner we are starting to pull out sweatshirts once in a while. The county fairs are starting up next week. Small towns are having their annual Fire Department Chicken BBQ's. The blueberries are at their peak of sweetness. Last night we closed the roof vents in the Airstream and needed to pull warm comforters over our beds in the middle of the night. All of these things are subtle clues that Vermont will soon be saying goodbye to summer, and feeling the cool breezes of fall. It's a short season here, which makes ideal weekends like this scarce and precious.