Camping in Capitola
It has been a very busy week here in Capitola, the seaside bedroom community next to Santa Cruz. I have had to spend most of my waking hours working to get the Winter magazine in shape, and close up another project. Eleanor and Emma have been off running errands and exploring the area.
This is a great spot and it's just a shame that the weather has been less than optimal most of the week. Since we arrived it has been cloudy and cool, with quite a bit of rain (by California standards, not Vermont standards). So we haven't done much with the beach here at the campground, but we have managed to check out the small beach village (touristy but cute), and meet with a few friends.
Tom Bentley came by yesterday. He's a contributor to the magazine and will have a nice article about a "Beatmobile" (Airstream motorhome touring the country for the Beat Museum) in the Winter issue. He just returned from a year teaching English in Kosrae, Micronesia, and I was fascinated to hear his tales of that little "island paradise."
We also gave a tour to a couple who are camped here in a new T@B trailer. They aren't happy with it, and are considering upgrading to an Airstream. Everyone here in the campground seems to know us ("Are you the people with the Airstream? Did it come with those stickers?"). We are a bit obvious in any campground.
Yesterday afternoon I managed to escape the office for about 90 minutes, during which we attempted to take a walk on the beach near town. But of course the mobile phone rang and it turned out to be a reporter for the NY Times syndicate, doing an article on Airstreamers.
So I spent the entire walk chatting with the reporter, while trying to snap photos with the Nikon one-handed. As a result, I had to delete a bunch of pictures in which the horizon was tilted.
But it was worth it. Media people are fascinated to hear about our trip, the fact that we sold our house, that we're home schooling, etc. You'd think nobody had ever done it before.
Today I managed to escape long enough to head down to the Monterey Aquarium with Eleanor and Emma. Everyone recommended it, and I can see why. It's a superb aquarium, even better than the Boston Aquarium. They had a wonderful set of exhibits on jellyfish, which are one of my favorite things to see. Some are nearly invisible, while others are so colorful they rival birds for their plumage.
The museum went a step further too, with an exhibit of art featuring jellies. What does this glass remind you of?
At one point Eleanor and Emma got "in" a tankful of rays. I stayed out in case they needed assistance.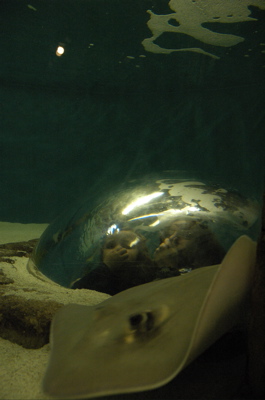 Going to the aquarium was probably the best thing we could do today. It has been raining most of the day. Tomorrow we have to run some errands and start prepping the trailer to be parked for ten days. We'll put it away at a fellow Airstreamer's house nearby, and drive down to Ontario CA (near Los Angeles) to catch a flight home on Monday.