Pinnacles National Monument, Soledad CA
What a strange feeling, driving down the highway without an Airstream behind us!
We got that fantastic California feeling, zipping down 101 through the desert valley south of Gilroy. Couldn't be a more beautiful day. Sunshine pouring down on perfect rows of garlic, strawberries, artichokes, cabbage, and many other fruits & vegetables. Farm stands, too. I think I spent the whole time hungry, thinking about all the food growing around us.
The funny thing is that Californians think Hwy 101 and I-5 are boring. They haven't driven through the Utah salt flats along US50, I guess. I always find the desert drives to be colorful and endlessly fascinating, especially as the sun approaches the horizon and lights up all the land's contours to the east.
We stopped off in Soledad CA to visit Pinnacles National Monument. It's one of those out-of-the-way national parks that we wouldn't have had a chance to see otherwise. No camping in the park, and it wasn't on our planned route down the coast. But it turned out to be well-worth the small detour.
Pinnacles is an unusual park in that you can access it from the east or west side but there are no roads that go through. Rt 101 gives access from the east, via a winding, scenic little road called California 146. This road becomes a single lane for several miles before you finally arrive at the tiny Chapparall ranger station.
There are no services here. No Visitor Center on the east side. But plenty of great hiking, rock climbing … and talus caves. The caves were our main reason for stopping – some bats were reportedly in resident in it, and we wanted Emma to get a chance to see some bats in the wild.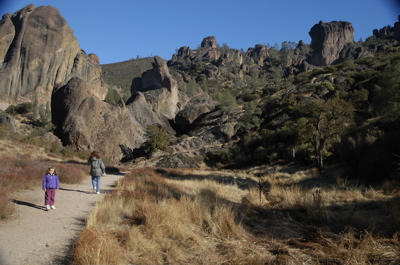 The sharp-looking rocks that form the Pinnacles are the remains of an ancient volcano. They lie directly on the San Andreas Fault, that famous border between the North American plate and the Pacific plate. The endless grinding of the two plates has put half of the old volcano's magma flow here in Soledad. The other half lies 195 miles southeast.
If you are more tourist than geologist, the Pinnacles are a great backdrop for photography, a challenging place to climb rocks, and a beautiful place to hike. We had only a couple of hours, so we took a relatively short hike of 2.5 miles (100 ft elevation gain, not much) which brought us up to the talus caves and back.
Emma loved spelunking in the cave, as long as we were close by. There's a bit of climbing involved, which is always popular with five-year olds. In the dark, negotiating rocks with a flashlight in one hand and an expensive camera around my neck, and an even more expensive child grabbing on me for support, I felt plenty challenged at times.
Unfortunately the bats were mostly out. We spotted only four smallish ones, snoozing on the wall. Still, it was a wonderful hike. Chestnuts had fallen from trees all through the area, with an amber hue that is completely different from the dark-brown chestnuts we have seen in the east. The Ponderosa pines left gigantic pine cones too, and the trail was constantly changing from dizzying cliffs to grassy floor, from dry wash to moist verdant moss. The hike was over in no time, and it was time to get back on the highway to Bakersfield.
Coming east from Hwy 101 the land turned to other western symbols: the wineries of the Paso Robles area, then oil wells slowly dipping up and down, strange-smelling processing plants, and palm trees. California is so big it should be three states, and so exciting and gorgeous it has the thrill of half a dozen others. I'm glad we'll be back in ten days.