Parked
The Airstream is parked and stored, while we head out for early Christmas with our family back in Vermont. Yesterday we backed the Airstream into a tight little hideaway on private land, hidden from public view and behind an electric gate. It will stay here, plugged in and locked up, until we get back from Vermont.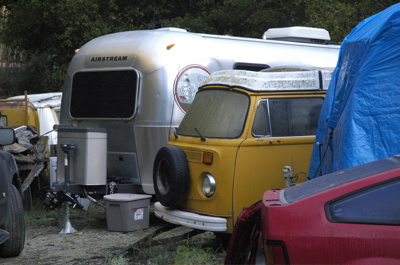 There are some interesting collectible vehicles here. Check out what we are next to: a 1953 Airstream 24 footer. This would be a nice one when fixed up.
Our flight from California to Vermont leaves from Ontario CA, which is near Los Angeles. Logically, we should have had a flight from nearby San Jose, but when I booked the tickets I thought we'd be much further south. Changing the tickets was prohibitively expensive, and we didn't want to rush our trip down the California coast, so we've opted to leave the Airstream here. That way, when we return, we can resume our trip and see everything we wanted to see at a leisurely pace.
Eleanor was packing last night for this trip and muttering dark things about how inconvenient it is to travel as a famiy by air. "You have to pack everything into one bag ... You have to disrupt your whole house. What a pain. When you travel by Airstream you have everything with you ..." She sounded just like the old National Geographic ads of the 1960s.
So we've already discovered two reasons why we like this mode of travel: (1) we can change plans without airline "change fees"; (2) we don't have to pack and unpack, and we have everything we need, not just what fits in a bag.
We're about to discover a third reason, too: hotels. I expect that the next two nights of hotel will cost us more than we spend on campgrounds in a week!
Finding Internet access on the road will be a challenge too. If I can find good Internet along the way, I'll keep blogging this weekend. If not, I'll catch you up on Tuesday. We have some interesting stops planned along the route to Ontario, including Pinnacles National Monument today.