Hummingbirds
What a beautiful day today! Pure sunshine, 80 degrees, dry and gorgeous. We stayed close to home to relax and catch up on some work. But I took an opportunity to catch our hummingbird friends in flight, over by the Camp Host's hummingbird feeder. After just five minutes of waiting, this lovely couple showed up.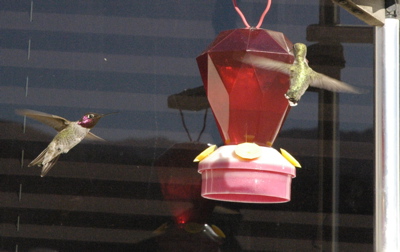 These are "Anna's Hummingbirds," which I suspect are the same as the "Costa's Hummingbird" but I haven't checked yet.
Sorry the photo is so grainy. I had to crank the camera up to 1600 ISO (in full sun!) to even catch this much. This was shot at 1/640th of a second, f13. Those little birds are fast! I'll post more photos on the Flickr album later tomorrow.