Understanding the Park
The longer we stay in Borrego Springs, the more we discover. The history and geography of Anza-Borrego is so extensive that it has spawned several thick books. And the "hidden" parts of the park are just enormous.
We took a hike yesterday morning to spot some bighorn sheep. Four trips to Anza-Borrego and I've never seen one, although they are very common in the hills here. After a mile of hiking we saw a ram and a ewe leaping from rock to rock at an unbelievable speed. It was all I could do to get my camera pointed and firing before they disappeared. Even at three shots per second, I only managed to get a few images.
You can see how well camouflaged these animals are. If it weren't for their rapid movement, we probably wouldn't have spotted them at all. Although we stayed out for another hour on the trail, we didn't spot any others. This pair managed to double back and sneak past us (by climbing high into the hills) later. I am amazed the mountain lions ever manage to catch one.
Saturday I also dropped in on an ranger talk about the Carrizo Gorge Railroad, which passes through this park to the south. Eleanor and I had hiked about six miles of the inactive railroad bed back in the mid-90s (where we had a surprising encounter with a group of nudists, but that's another story). I wanted to find out why the railroad was ever built, since it was an impossibly twisty route with over fifteen tunnels and enormous bridges made of 8x10 redwood posts.
Turns out the railroad was an unprofitable disaster since it opened in 1919. Floods, derailments, tunnel collapses, Mexican bandits, and many other problems occurred over the decades. It was finally abandoned in 1983, but in 2003 the County of San Diego announced plans to bring it back. Now it is being policed and we can't hike it anymore, which is a shame since it is an amazingly scenic trail.
Last night we went to a campfire talk with another ranger. The subject was the Fish Creek parcel of the park, where we went offroading on Friday. The talk really rounded out our experience. Whenever we are in national parks, we aim for the ranger talks because they give you an appreciation and understanding of the place that you can't get by just wandering around with a trail map.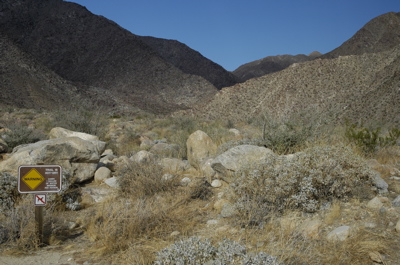 Our Saturday morning hike. Trailhead sign says, "Trail is HOT - DRY. Bring one gallon of water per person."