Upgrades!
Saturday was a work day for us. We got towed by the forklift into the service bay on Saturday morning. General Manager David Tidmore and Service Tech "Denver" (I don't know his last name yet), got busy working on things in and out of the trailer, while Eleanor and I took care of few minor things as well.
At first, Eleanor and I took turns keeping Emma occupied, but as the day warmed up Emma adopted a few people who happened by. First it was Gunny and his black labrador puppy, later it was the Service Manager and his wife from the car dealership next door, and later still it was anyone who walked into the dealership to look at the Airstreams.
I removed and replaced the caulk around the kitchen countertop and stove, which had loosened up. We also removed the opening portion of the bathroom window, applied frosted window film to it, and raised the bathroom blinds. This allows us to more easily operate the window knob without having to reach through the blinds, while still retaining privacy. If you have a later-model Safari you'll know what I mean.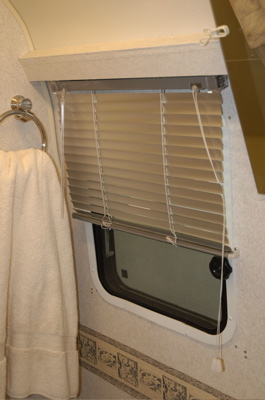 I finally got a chance to repair the damage we picked up in California to the rear skid plates (under the rear storage compartment). That was a matter of grinding off the old paint and rust that had formed since the plates were bent, and re-painting them.
We are also replacing and extending our battery bank, from two Interstate group 24 "wet" batteries to four Optima blue-top AGM (absorbed glass matt) batteries. Two will go in the existing battery box, and two will go into the front storage compartment. Since they don't vent hydrogen and can't spill, they are safe to have inside the trailer. This is preparatory to installing a full solar system, which we will do later. In the meantime, we'll have double the battery capacity we had before -- very useful when boondocking.
David also has a theory about our water heater that doesn't stay on reliably. We've had that serviced in Jackson Center, and again at an Airstream dealer in Iowa. But both times the problem has recurred. David, being an electrical engineer by training, has zeroed in on the problem and I think he might have it nailed. Amazingly, the problem may come down to a dirty contact!
And there's more ... we added a Fantastic Vent to the rear bedroom (Emma's area). This trailer has three roof vents, but only one had a powered fan. Now two of the three vents are powered, which will be a huge improvement in air circulation when the hot weather comes in.
Finally, we are making a big upgrade to a Hensley Arrow hitch. While we have been happy with the Reese hitch to date, David and the Hensley people have convinced us to try the Arrow. Having a relatively short wheelbase SUV towing a long trailer, they believe the new hitch will improve our handling and overall safety. I am really looking forward to trying it out next week. We'll have some long days driving to Indiana.
On Monday, we still have a few more things to do. We want to replace the two-handle faucet in the bath with a single-handle one. We've already found one at the local Lowe's. The toilet seal is leaking, so that will get replaced. We'll finish adjusting the new hitch and Eleanor & I will get a "Hensley 101" course from David.
We are also going to modify our flat-panel LCD screen to run on 12v so we can watch movies when boondocking. That's an easy job since the TV already runs natively on 12v. Right now it goes to a power converter which plugs into the 110v power. By removing the converter box and connecting it to 12v, we can run the TV off the new Optima battery bank.
Our long term goal is to get everything except the laser printer, vacuum cleaner, and coffee pot running on the 12v system. This will save us a pile of money because we won't need to buy an inverter. I'm going to search for 12v adapters for the laptops and cell phones.
One problem we still haven't solved in the bicycle rack. We're going to struggle on with our wobbly roof system and keep researching options. It has lasted 13,000 miles so far -- I guess it can go a bit further.
Today we are off to Ft Worth to see some interesting water gardens and the downtown district. We've been told it's worth the trip. I'll take pictures for you.