Tarpon Springs, FL
Tonight is our last night before Emma returns. We decided to spend it exploring the "sponge docks" area of Tarpon Springs. In the early part of the 20th century this harbor was a thriving center of sponge diving activity, but in the 1940 and 50s a blight wiped out most of the sponges. Today, the sponge docks area survives as a tourist district.
Normally tourist districts are not our first choice, but this one has a special element which attracted us. The Greek families who were the mainstay of the sponge diving industry are still here, running restaurants and bakeries. We came for a walk, and some serious noshing.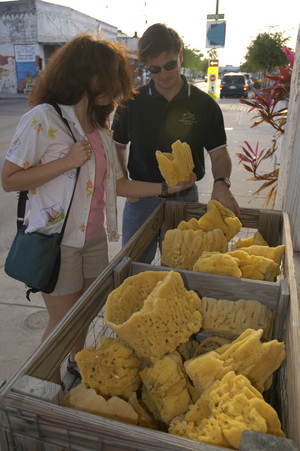 Somewhere behind that hair is Eleanor ... (Click for larger image)
Sponges are everywhere here, even though I suspect many of them come from far far away now. You can't walk 50 feet without passing a display of sponges, a shop selling fancy local soaps, and then a few more sponges. One of the sponge shops hosts a free museum where you can learn much more about sponges and sponge diving than you ever wanted to know. Occasionally you'll see someone hand-rolling cigars, too.
But we didn't need any sponges, so we headed right into one of the restaurants for a Greek feast. Stuffed grape leaves, calamari, and gyros ... and the gyros were so big we had to get a take-away box for the leftovers. We also got a few fresh pita breads so we can make gyros sandwiches with the leftovers tomorrow.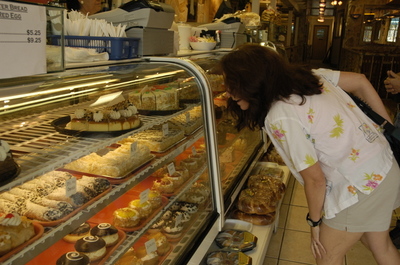 She's still hiding behind that hair...
Then it was off to the bakery to get even more stuffed. Take your pick, there are several in town and all of them are good. Let's see, we got dark chocolate cake, baklava, and Eleanor got a special baklava with an apricot top and a tiny cup of Greek coffee. By this time, nobody wanted to move too quickly, so we hung out and watched a crowd of regulars -- nearly all of Greek descent -- show up around 9 pm for dessert and chat.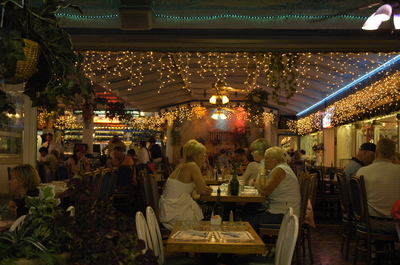 Tarpon Springs seems to come to life at night. Not so much on the street, but inside the restaurants and bakeries. It migrates from being a little tourist trap of sidewalk shops to a sociable late-night community of good food and good friends. It's a nice vibe and that made it a fun place to be.
Here's your sign of the week: