By Bus and By Plane
This morning I received an email from blog reader Steve, who has a bus conversion in progress. I've always thought a motorhome conversion from a vintage Greyhound bus would be very cool, so we arranged a meeting at the local Home Depot, and Stan came along, too.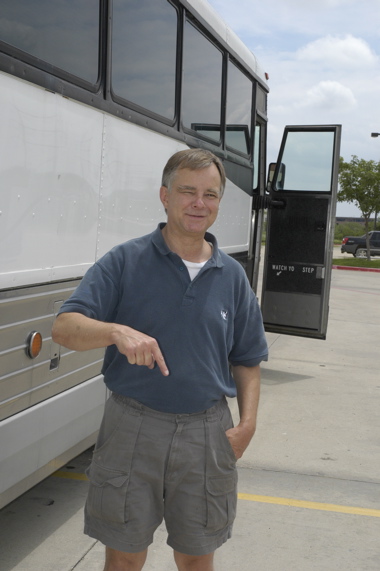 The stats on a bus conversion are incredible. These aluminum bodies are built to last three milllion miles, and diesel engines that go hundreds of thousands of miles between overhauls. 179 gallons of diesel means you can buy fuel in Boston and drive to Chicago with 1/3 of a tank left over.
A 39,000 lb. GVWR means enough carrying capacity for a dozen full-grown moose and a German Shephard, should you be so inclined. The basement storage capacity gives Steve enough room for 100-gallon holding tanks, a mountain bike, and practically an entire garage of tools. In other words, no need to travel light.
Then we got on with the main event of the day. Stan and I wheeled out his vintage Cessna taildragger and
aimed it down the runway. It was a perfect day for flying... calm wind, warm air, not much turbulence, and surprisingly little air traffic for this busy place. There are bunch of small airports, plus DFW, within a few miles, but it seemed like hardly anyone else was up there with us.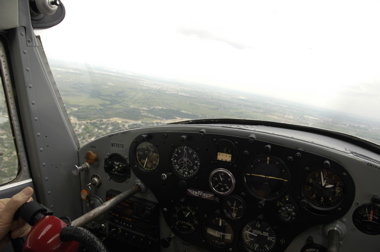 Stan let me fly his Cessna for a while, which was a real pleasure. The plane handles beautifully with a light touch. It reminded me of what I liked about flying my own plane in the 1990s. After four landings, we parked it and headed back to the house and trailer for one last grilled dinner (tilapia, salad, asparagus, and cheesecake) by the pool. Yep, courtesy parking can be really nice.
Tomorrow we need to get over to Roger Williams Airstream for our big service appointment. Let us know if you can drop by! I am looking forward to documenting our disc brake conversion, solar panel installation, and other upgrades.