Caddo Lake State Park, Karnack TX
First of all, I am under orders to acknowledge something that I did not mention in yesterday's blog: Eleanor towed the trailer! You may not realize that of the 20,000 miles we have driven since last September, 100% of the towing has been done by me. Eleanor has until now refused to even try, but a few lectures from fellow Airstreamers about the need for backup, and a stretch of quiet roadway (Natchez Trace Parkway) finally got her into the driver's seat. It was even her idea!
So she towed over 50 miles yesterday, and made several tight turns with a 30-foot trailer behind her, and nothing awful happened. The trailer is intact and not even scratched. We're all hoping she'll feel brave enough to try again soon.
It was not quite as exciting today wandering through Louisiana as we had hoped. Rt 84 west from Natchez is an historic route but not comparable to the Natchez Trace or old Route 66. I think things hit a low when, to entertain themselves, Emma and Eleanor began dressing up stuffed animals for an in-car beauty contest. After a few hours of not much, we hit boring (but fast) I-49 and zipped up to Shreveport for some groceries.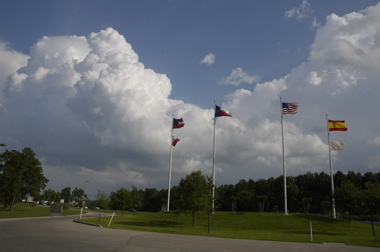 It has been in the upper 80s, and a little more humid, so the inevitable began to happen: thunderstorms. We were lucky and avoided the worst of them, but everywhere in northern Louisiana and Texas along I-20 we could see them building.
At exit 635 off I-20, you'll find this place: Jim's Bar-B-Q and Catfish. We parked the Airstream in the lane next to their drive-thru and ordered a 10-piece Cajun-fried catfish dinner. It fed two of us with a piece left over. (Emma prefers chicken, poor thing. She doesn't know the pleasure of Cajun-fried catfish.) It came with hush puppies, pickled green tomatoes (delicious), and cole slaw. All for $11.99. I love a bargain.
Right now, Eleanor and Emma are at the table identifying a large black butterfly we spotted yesterday on the Natchez Trace. According to Emma's identification book, it is a Pipevine Swallowtail. Later this evening, she'll be practicing the game of Uno, because we plan to meet a friend who is obsessed with it. Emma plans to give him a good challenge.
Tonight's stop is Caddo Lake State Park. Nice place, especially if you've got a boat. Water and electric for $12 – another bargain! But there's no Sprint coverage and my Verizon phone is on "extended network", which means both my primary and backup Internet connections are unavailable. (I'm posting this from a rest area on I-20 at noon Thursday and back-dating it.) So, we'll only spend one night here and then head further west. We have plans for the weekend and friends to meet on Friday near the Dallas/Ft Worth area.