Caprock Canyon SP, Quitaque TX
Our last few hours at Roger Williams Airstream were productive. Rich bailed out at his usual crack of dawn time, but as predicted, we just rolled over and kept on sleeping. David showed up around 8 a.m. and proceeded to install some bonus items: new stainless steel covers for the water heater and furnace.
The standard covers are fairly ugly steel painted a battleship gray color, which fades in the sunlight. Check out these before-and-after pics.

The ugly old cover

New stainless steel cover
If you want to get some of these covers for your trailer, check with David Tidmore at 817-596-0050. He's had a bunch of them fabricated locally, and as far as I know, nobody else offers them. I think the pair (water heater and furnace) is less than $80.
David also helped us clean up some spots in the carpet (using an interesting product called "Dealersol", but I'm not sure if you can buy it at retail), and the stainless steel parts in our trailer using a product called "ZEP" which you can apparently buy at Home Depot. (The stoneguards, refrigerator front, and stove front are stainless steel in our trailer.)
Finally, we took the rig around the block a few times to work in the disc brakes and adjust the brake controller. They start off braking poorly until the pads and rotors get worn a bit. After just a few miles the difference was amazing. It really STOPS.
With all this, we didn't get on the road until about 11. It was nearly 300 miles to Caprock Canyon, so we arrived way after Rich C, but he had a spot picked out for us, and had already scoped out the good stuff to see. There was still time to check out some great canyon views after dinner.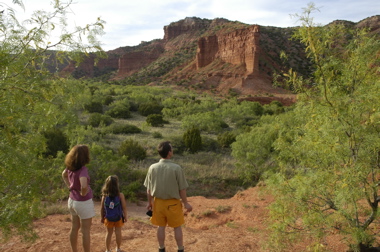 Now we're trucking through New Mexico on our way to another state park tonight. Rich C is already there, and he reports that there is no Internet service (via cellular) in the park, so again I'll have to post from the road tomorrow.
So far today we have covered a couple hundred miles and the disc brakes are now perfectly broken in. The difference is night and day, as I've been told. I'm really impressed. I can make a slow stop or slam on the brakes, and the effect is just remarkable -- this 8000 lb trailer just smoothly comes to a halt without pushing us, or even letting us know it is there. I feel like it is a big safety improvement. Woo-hoo!


Stopping at a rest area off I-40, we met up with these folks pulling a 1972 Airstream Safari (single-axle) with a Nissan Titan. Very friendly ... and it turns out they were just at Mystic Springs Airstream Park near Pensacola a couple of weeks ago, so we were able to talk about folks we both know down there. Their Safari is dented and rough on the outside, but very usable and they are having fun with it. That's the whole idea!