Cool window!
Literally. The guys spent all day yesterday working out the details of how to install the new "International-style" window over our dinette table. As you may know, late-model Airstream Safaris come with Hehr windows that are, shall we say, lacking when it comes to ventilation. We have long planned to replace one or more of them with the far-superior windows that come on Airstream International and Classic models.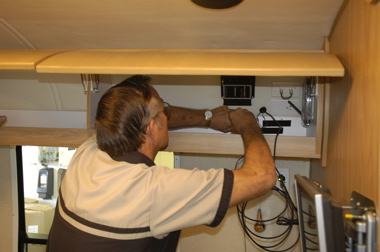 To do this particular window, we had to remove the double overhead locker above the dinette, which necessitated disconnecting my Internet In Motion box, so I've been borrowing Rich C's Internet connection ever since.
Then we ran into a snag. Even though the new window is almost exactly the same size as the one it replaced, the corner radiuses are different. This required some careful work to put extra aluminum in behind the existing exterior sheet, in such a way that it would be hidden by the caulk when finished. David and Denver figured it out and their solution is guaranteed watertight.
The new window is frankly AWESOME. It is huge, opens completely, and looks great. Compare it to the weeny vent window to the left that it replaced.
I didn't post to the blog last night because I left my computer in Rich's trailer, and then we went out to have dinner with Paul and Annie Mayeux at their house. Emma adores their two daughters, having met them at the HOTC campout in Cleburne State Park last February. So while Eleanor and I toured their fascinating self-built home, Emma wore herself out keeping up with a 9 and 12-year-old. By the time we got back to the Airstream, it was 10:30 and Rich had gone to bed.
This morning David and Denver have finalized the window installation and put our overhead bin back together. I was underneath the trailer half the morning mounting up a flagpole carrier made from some PVC pipe -- this will hold the three flagpoles Fred Ettline gave me back in Charleston, instead of having them ride on the bed.
Denver is already working on our first Vista View and I expect to post again tonight with pictures of that. We are going to stay through Saturday morning so there's time to get the solar panels on, too, and hopefully Rich can get some work done on his rig as well before the weekend. Then, we'll head west and try out all the new goodies.