Sedona to Glen Canyon
Our campground last night, Rancho Sedona, distinguished itself in two ways today. First, it became only the second campground advertising wireless Internet which had a signal strong enough to penetrate our Airstream's aluminum skin. Second, the sewer drain didn't. So when I pulled that black handle … well, let's just say it wasn't pretty.
Turns out they have what they euphemistically refer to as "a delicate septic system." Apparently when somebody downstream flushes the wrong thing, everybody upstream has a bad day. The service guy came over and did what you do at home: he plunged their drain line. He told me that the last time he was called out, it was a screwdriver in the line. People flush weird things.
We took the southern route out of Sedona to see more of the great scenery and to visit Montezuma's Castle National Monument as well. The monument is small, basically consisting of ancient Native American cliff dwellings, and a good Visitor's Center. The temperatures were flirting with 100 while we were there. I leaned against a brown metal railing and burned my elbow.
Just outside the Monument is one of the ubiquitous Native American casinos that dot the western landscape, and an open parking lot where we found a family selling frycakes and handmade jewelry. We've been seeing these frycake stands often since we entered New Mexico and Arizona, and since it was lunchtime I proposed we stop and try a few.
They're a little like the fried dough you get at county fairs, but lighter, crispier, and not nearly as nauseating afterward. I buried mine in honey, Emma chose cinnamon sugar, and Eleanor mixed powdered sugar and salt for a kettle-corn sort of flavor. They were all great.
Then it was northward. I-17 rises as it approached Flagstaff, which is nothing like what I expected. Being up around 6000 and 7000 feet, the area is green with pine trees. The centerpiece is a peak 12,000 ft tall with snow at the top. Then Route 89 floats gently down to 5000 feet as it goes through National Forests and tribal reservations, including the large Navajo Nation.
The route to Page, AZ is beautifully scenic and often rather lonely. The Echo Cliffs parallel the road on the eastern side, and little villages populated by Native Americans are the only breaks in over 100 miles. Coming into Page, a town founded as recently as 1957, you are rewarded with stunning views of red rock formations and eventually Lake Powell.
Lake Powell was formed by the Glen Canyon Dam, which you can walk across for a dizzying but gorgeous view of the canyon and lake below. There's a Visitor Center but we arrived after it was closed.
Just a mile down the road, we turned off for the Wahweap Marina area, which is part of the Glen Canyon National Recreation Area. Our National Parks pass with Eagle hologram got us in for free, saving $15. (That paid for the Eagle hologram right there.) Down the road are wonderful views of Lake Powell, the marina filled with houseboats, and Navajo Mountain.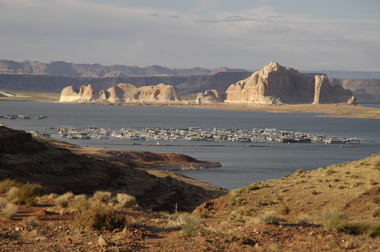 I was hoping for a free campsite somewhere, but even boondocking in this campground costs $19. For what, I'm not sure. Oh well, it's lovely and quiet. Since this is a warm night, still 84 degrees at 11 pm, and we'll have to sleep with the windows open, it should beat the noisy Wal-Mart Supercenter up the road, where we saw at least six $100k+ Class A motorhomes parked for free.