Sedona, AZ
Last night was beautiful and peaceful, camping under a sky filled with bright stars in the clear desert sky. The two gift shops at the south end of Petrified Forest National Park (just outside the gate) allow overnight parking, and their location is so far from anything that it is quiet all night.
We tested our solar system by using as much as battery power as we wanted last night. By flagrantly using lights, running the laptops off the house batteries, running the water pump a lot (three showers), and running the furnace at night, we managed to consume 55 DC amp-hours of power. This is about the most we'd ever use in a single evening.
This morning, the desert sun began shining early and by 6 a.m. we were generating 3 amps of power. By 8 a.m. we were generating about 8 amps. By noon we hit 12 amps, and by 2 pm, we'd recouped most of the 55 amp-hours we used. (The last 10% or so goes in very slowly because the batteries can't charge quickly when they are nearing full, regardless of how much power you put in. This is why it's a waste of gas to try to get your batteries to 100% using a generator.)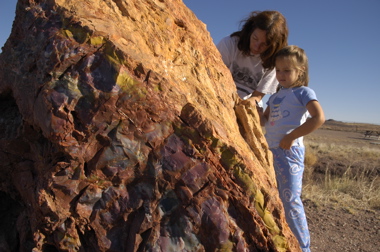 We were so excited about working on Emma's "Junior Ranger" booklet that we all went outside in our pajamas at 7 a.m. to examine the huge chunks of petrified wood that were scattered all around us in the parking lot of the gift shop.
Next stop was the Visitor's Center at the south end of the park and a short hike through the "Giant Logs" area right behind the Visitor's Center. While we were there, a couple of friendly lizards posed for us atop the petrified wood.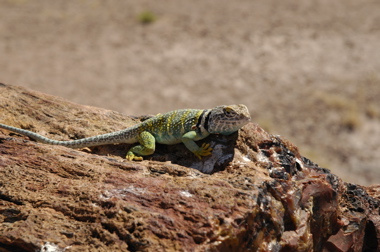 The next hike was a few miles up the road at Crystal Forest. It was, like all of Petrified Forest National Park, a fascinating site, but Emma was tiring of looking at fossilized trees and so we decided to return to the Airstream for lunch and some cold drinks. Emma completed work for her Junior Ranger badge and shortly thereafter was duly sworn in by Tyra the Ranger. This is her third Junior Ranger badge.
Our goal is still Zion National Park by the weekend, but we decided to make a small detour to Sedona AZ to meet up with Fred and Renee. You might recall we last saw them in Myrtle Beach SC and Charleston SC. They're on the same westward trek as we are, heading to Oregon for late June. We found them after a harrowing switchback descent from 7000 feet, in the overly-quaint town of Sedona.
Sedona's main feature, as far as I can tell, is the abundance of towering red rocks which surround the town and the adjacent National Forest. Fred and Renee took us up a rugged dirt road five miles in their Jeep, to see the sunset views.
The views are spectacular, but difficult to capture. I should learn how to make panoramas, for places like this.
We've had ice cream and looked at the 180 photos I shot today, and now we're sacking out. Arizona is a huge and wonderful state with incredible variety, and it seems like every day we spend here completely wears us out from the sheer magnitude of it.