Oregon Caves National Monument
We've bought our last tank of gas at $3.47 per gallon, I hope. We're in Oregon now, and things are cheaper here. Now, if we could only improve the weather....
The drive on Rt 199 from Crescent City CA was as scenic as I expected, at least through the first 35 miles or so. During that time you are in the northernmost part of the Redwood National Park, and the road winds through the big trees and along a river. Then you move seamlessly into National Forest, which is also terrific. It wasn't as nice as Rt 299 in California, but it was majestic and cool in the fog, and worth the drive.
Once the road crosses into Oregon it is markedly less scenic, since the National Forest ends there and various signs of rural life appear along the roadside. Ten miles later, the tiny tourist town of Cave Junction appears, and the dead-end 17 mile Route 46 that leads up to Oregon Caves National Monument.
Oregon Caves is not a convenient stop, but then, few of the good national parks are. The nearest camping is where we spent the night, at Grayback Campground ($16, no hookups, no dump) in the Siskiyou National Forest. This is 10 miles up Rt 46. Trailers and motorhomes are discouraged from going any further, and taking a 30-foot trailer such as ours up the rest of the road would have been downright crazy.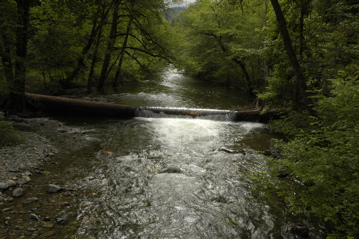 Grayback is a very nice place, bordered by a wild river, filled with tall pines and mushrooms, damp and primeval and shady, and normally we would love a place like this. But we've all had enough of shade lately, and so it was hard to get excited about another day in the gloom and cool. Especially since all of us still have colds.
Still, it presented me with numerous easy photo opps. There's a particular type of snail that was visible in several places: the Roth Snail. These big guys (about 2" long) leach calcium from the local marble as they march slowly along. They use the calcium to build colorful red shells of calcite for their homes. We were fascinated to see how they can completely retract their stalks and faces when they are scared.
Seven miles up a very twisty and and narrow road, and a couple thousand feet up, are the Oregon Caves. It's a good tour (free with the National Parks pass, by the way, otherwise $8.50 per adult). But the real gems of the place are the 1930s Chateau and Chalet buildings. These are real architectural masterpieces, made of huge douglas fir timbers and sided with redwood bark. The Chateau, six stories tall, seems to rise right out of the canyon as if it were planted there, and the river that exits the caves runs right through it.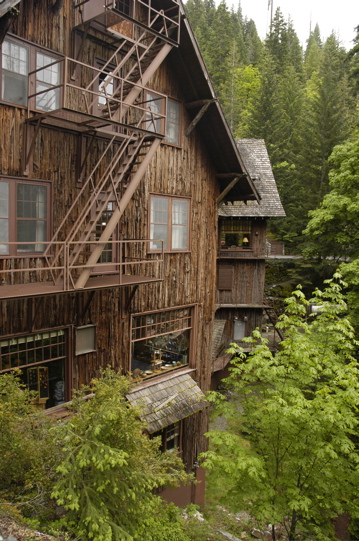 You can stay in the Chateau overnight. It has more than a dozen hotel rooms, plus an elegant restaurant and a lunchroom. After our 90 minute cave tour, we were hungry and stopped in. (The tour includes 500 stairs, and it's 42 degrees inside, so we had worked up an appetite.) It's a great old-fashioned place to eat.
During lunch, Joe the maintenance guy responded to Eleanor's question about the famous mudslide that nearly destroyed the hotel in 1964. He got into the whole dramatic story, pointing out parts of the Chateau that were damaged. (The building was nearly pushed off its foundation.) It's a great story.
By this time it was 2 pm and the fog had turned to rain. The temperatures never got above 48, so we sloshed back to the truck and drove back down the National Forest campground to fetch the Airstream.
You'll notice we aren't driving the long distances lately. Our longest tow since Reno has been about 100 miles. We don't need to be in Salem until the 26th, so we are meandering a bit. This saves gas money and it's also a lot nicer. Why rush if you don't have to?
So our tow today was only 40 miles or so, to Valley of the Rogue State Park near Grant's Pass, OR. This is a grassy, manicured park with full hookups near I-5 ($20/night). We've selected a quieter site toward the back with just water & electric, and prepaid for three nights. We chose this park because it is convenient to services and along our route to Crater Lake. We need to re-stock a few things, plus I want to give everyone a couple of days to get rid of these darned colds.
I also need to get some work done. We are in the final stages of the Summer magazine issue, and everything goes to the printer on Friday. Once that's done, we'll head up to Crater Lake for the weekend and then up to Eugene on Monday.