Black Canyon of the Gunnison NP
After Eleanor and I got a few hours of work done this morning, we packed up a picnic lunch and headed to Black Canyon of the Gunnison National Park, about 50 miles west of here.
Along the way we saw all the great campgrounds we would have liked to have stayed in this week. The Blue Mesa Reservoir starts just a few miles west of town and there are several great National Park and commercial campgrounds right along side it.
A little further down, we spotted a pair of vintage Airstreams parked in a tiny roadside campground. Linda Hogan was there reading a book next to a burbling stream. We last met Linda in Sisters OR at the vintage rendezvous just before the International Rally. She and her fellow travelers will be at the Rocky Mtn Vintage Rally later this week.
Once again, Colorado has amazed us with its splendid scenery. Just the drive along Rt 50 is worth the effort, but then once you arrive at Black Canyon of the Gunnison NP, the vertical scale of the canyon is downright stunning. My pictures can't possibly do justice to the incredible overlooks. The walls of the canyon are decorated with crazy lines of pinkish pegmatite amidst the darker schist.
This is our kind of park -- uncrowded, photogenic, and remote. We spent over an hour in the Visitor Center alone, and of course Emma scored another Junior Ranger badge -- her 13th, I think.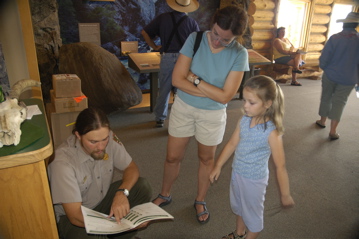 By the time we left, it was past six and we had to hustle to get back to camp by 7:30. I grabbed a quick bite for dinner and headed up to a nearby Recreation Area with Rich C to get some sunset photos.
The light and the scenery were unbelievable at sunset -- a photographer's paradise. Both Rich C and I shot dozens of photos while we were up there. All of these photos were shot without filters.
The area is riddled with mountain bike trails, 4WD trails, and fantastic rock spires. We may go up again tomorrow, since it is only five minutes from the campground. The dirt roads generally require a high-clearance vehicle, but they go on "forever" according to the locals, from the recreation area to BLM land to National Forest. We'll take the Nissans and go exploring.