Morrow Point Boat Tour
We had conspired to take the Morrow Point Boat Tour this morning before heading south to Creede. The National Park Service has a tour down the Black Canyon of the Gunnison where it becomes the Morrow Point Reservoir, on a 42-passenger pontoon boat, and it seemed like a fine way to wrap up our stay in Gunnison.
But this morning, as I was making our pre-flight checks, I found that one of our tires had gone flat. Yes, another flat tire. Was our luck about to turn ugly again?
Fortunately, the tire had only a slow leak. We refilled it with Rich C's portable air compressor (mine does not have a long enough cord to reach the driver's side -- something I'll have to rectify) and the tire held air. But since we don't currently have a wheel for our spare, we needed to get the tire fixed immediately. I figured that the trip downtown to get a tire patch would make us late for the boat trip, so we resigned ourselves to spending yet another day at a tire shop -- and losing our non-refundable fares for the boat tour.

The Tour of America, or Tour of America's Tire Shops?
And then we got lucky. The second tire shop we tried was willing to squeeze us in, and the problem was located and fixed in about 20 minutes. (It was a small nail this time, right through the center of the tread.) I stopped the mechanic and gave him a short synopsis of our previous tire/wheel problems, wrapping up with, ".... and so that's why I want to torque the lug nuts myself, OK?"
He was amenable to that, and just spun the nuts on loosely. I carefully tightened them using the procedure I had learned back in Green River, WY, and checked them five, ten, and 25 miles later. This little episode only cost us $20 and about 45 minutes including hunting for tire shops so we decided to see if we could still make the boat tour.
We drove about 10 miles west on Rt 50 to the Elk Creek Visitor Center, unhitched the trailer in the parking lot (with permission), and raced another 15 miles west to the parking lot for the boat tour. From there, it is a hike down 232 stairs and along 1/2 mile of abandoned railroad bed to the boat launch on the Gunnison River in a deep canyon. We made it, with ten minutes to spare!
Our tour leader and Capt. Tom told me later that they were actually going to wait for us. Apparently the rangers at Elk Creek radioed ahead to tell the sad tale of a family who got a flat... in fact, by the time we arrived, all 39 other guests on the tour were aware of our story.
The tour takes about 1.5 hours and is spectacular. The canyon walls rise from 100-300 feet up to several hundred feet, as it widens into the Morrow Point Reservoir. There are a lot of interesting sightsalong the way including the waterfall pictured above, an old narrow gauge railway bed, hawks & vultures soaring above, caves in the rock walls, and beautiful calm waters.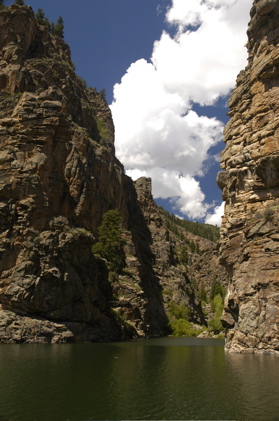 After the tour we hiked back up the 232 stairs and over to Elk Creek again, where Emma picked up her 14th Jr Ranger badge and we hitched up for the trip over to Creede. Route 149 to Creede is predictably scenic, but that also means curvy, hilly, and remote. It took us nearly three hours to drive about 100 miles, mostly because of the 11,500 ft Slumgullion Pass just past Lake City. Speed limit on most of the southbound (uphill for us) portion of the pass is 15-25 MPH most of the time, and so we climbed the hill rather slowly in first gear. But it was a troublefree climb and descent.
We are in Creede at the rally campground now. When we arrived it was pouring rain and absolutely dismal so we stayed in and haven't seen anyone yet. There are at least two dozen cool vintage Airstreams here already, and more than 30 more expected tomorrow. I'll get pictures ... and I'll get the new rim from David Tidmore when he arrives, so we can get our spare tire mounted on it for the NEXT flat.