Waterskiing
Yesterday was one of those fabulous late-summer days in Vermont. We took the boat out for what will probably be the last trip of the year, and my brother Steve went waterskiing.
Steve's a pretty handy waterskiier, and the lake was almost glassy calm at sunset, so I had the opportunity to shoot some nice photos. I'll post a few on Flickr. All were taken with the new 55-200 mm zoom lens, using ISO 400 for better stop-action on the water.
These days I'm usually alternating between Program mode on the camera and Aperture priority. Instead of Shutter priority I stuck with Program mode and occasionally spun the command wheel on the Nikon to get a higher shutter speed. (If you don't have a Nikon digital SLR none of this probably makes sense.)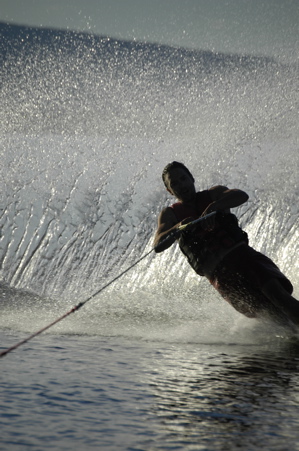 The sunset light made for some fine lighting on the splashing water. I wish we could go out again today but some weather has arrived ... rain and gloom. Summer is over up here in the northeast.
It has been cool enough at night (40s) so that we are using the furnace now. We still haven't plugged the trailer in, and with the gray skies today it will be a test of our battery bank and solar panels to stay charged. So far we have been unplugged for three and a half weeks, a record -- but of course one week of that we were not in the trailer. I'll be interested to see how much solar we can capture today and tomorrow. We may plug in tomorrow if the batteries go as low as 50% of capacity.