A night at Pizza Putt
Imagine six adults all piling in the minivan to drive 25 miles to go to a place called Pizza Putt, to play arcade games all evening. Bizarre? Yes, but when you add in just one grandchild, suddenly it all seems perfectly normal.
Last night Emma and her support team of six otherwise sane adults took in the action at that kid-oriented place -- and of course, ate pizza. We played indoor mini-golf, whacked spiders, captured little flying bees, pulled the plungers and spun the wheels, all in pursuit of a bunch of orange tickets which Emma later traded in for a small stuffed leopard.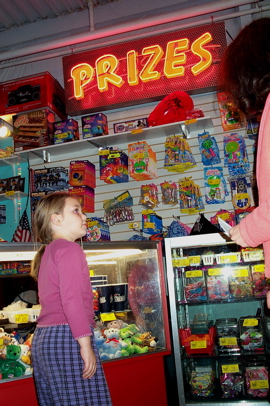 I have to say the pizza wasn't bad and Steve and I liked the batting cages and Skee-ball. It was a decent way to spend the final evening with our family in Vermont. Today we have to finish packing and our goal is to be on the road by 2 pm.
At this point I doubt we'll make it, but I would like to get to the rally as soon as we can, since there are many people who I would like to see there. We've got a lot of Airstream friends from the various northeast regions of the club, plus the new owners of Vintage Thunder, and a new contributor to the magazine who I haven't met yet.
By the way, I added some foliage photos to our Flickr album.