From rain to shine
A very slow-moving line of thunderstorms bore down on us all night, bringing a constant distant booming and intermittent rain. This morning the line grew closer, and the sky grew darker until by 9 a.m. we were forced to put the lights on in the trailer. There was nothing to do but wait it out. We watched the weather radar on the Internet and left the TV on in case a tornado was reported.


If a tornado had appeared, our plan would be to run for the nearest safe structure. You can't tow your way out of danger, and driving along Rt 98 isn't really practical way to escape an unpredictable tornado either. Once in a while we get caught in a big storm and so I review the escape plan with everyone -- in this case, run to the bathrooms nearby, which are made of brick. Fortunately, this storm line brought us nothing but a few hours of rain.
When it subsided, I checked the mail again in Ft Walton Beach. Nothing there. We'll have to go back again tomorrow.
By the time we hitched up and towed 11 miles to Topsail Hill State Preserve, the sky was miraculously clearing and the rest of the day was spectacular. Not a cloud to be seen all afternoon, and dozens of Airstreams filling the campground.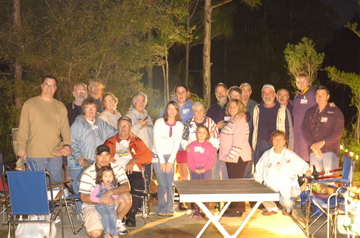 Our group met up at an empty site (#164) to grill and hang out. I managed to get most of the crowd posed for a quick photo, but since it was a five-second exposure in the dark they're not all looking their best ...
A few friends we knew before are here: Carol, with whom we have enjoyed several adventures (most recently our trip from Salem OR to Idaho in July -- see the archives), Herb & Sidra, and Joe (known as 2air on the forums). The rest are new to us, but we're making new friends fast.